So I got to see the game from a new vantage point on Sunday thanks to my friend Deb!  Honestly, I'll take any excuse and suffer pretty much any indignity to get to a game when circumstances and/or finances allow.  That includes getting rear-ended by a knucklehead while parking at a meter (long story, no damage, no biggie).  That being said, it was a GREAT game!!
Of course, I had the same problem I always have.  I took too many pictures!  It took me forever to get them narrowed down and as it is, there are still too many to post individual pics.  Mostly I was trying to get as many shots of the new guys as I could for our media library purposes (at least that is the excuse I use).  But I hope you guys enjoy the record of the game in snapshots!
Here's my favorite shot of the game though – Repko making that amazing catch in LF: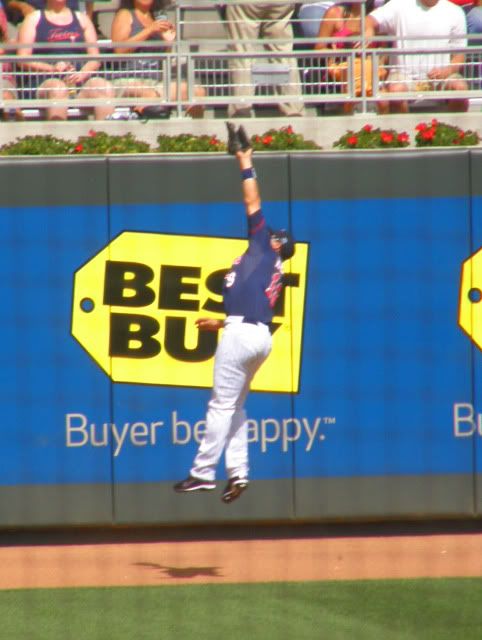 And for the record since I was at the game and it seems to be the thing everyone is talking about, Gardy absolutely did the right thing not sending Kev back out there in the 8th.  It's not about pitch count – it's about the fact that there was no way he was going to FINISH that game anyway.  He'd been erratic (fairly effectively so) but we all know that inning-ending double play for the 7th was a thing of beauty because Kevin NEEDED it there.  He was done.  I don't know what game you were watching if you couldn't see that but I'll argue with you if you want – doesn't make you right.  *GRIN*  I don't ever want Kevin to WANT to come out of a game but the fans who were standing and cheering when he left the field at the end of 7 knew he wasn't coming back.
I hope you all enjoy the slideshow and I can't wait to get back! You just can't get too much baseball at Target Field!