There are finally Twins players playing baseball!!! Yes, it's down in Ft. Meyers so most of us don't get to see any of it but Pitchers & Catchers officially reported today. Obviously, several have already been there and working and several of our position players are getting some early work in as well – including Tsuyoshi Nishioka. Since we don't get to see that happen on TV for a bit yet, I thought I would give you a little video taste of his workout down there courtesy of ESPN: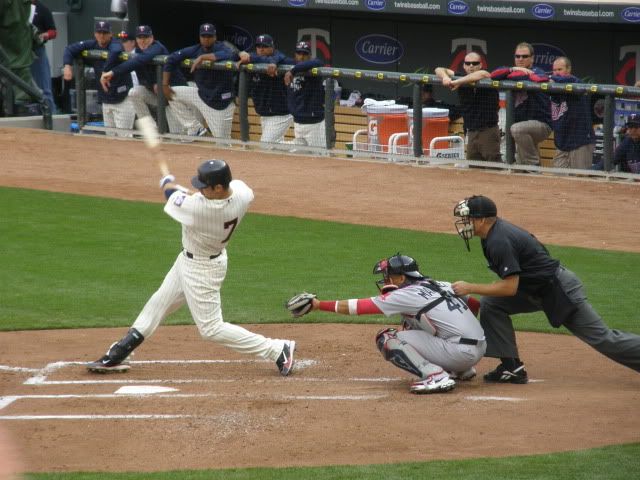 But obviously, the position players will mostly get their day in the sun later. Today is all about pitchers and catchers. Of course, the one getting all the attention on the catching front is Joe Mauer. ESPN talked with him about what kind of shape his knee is in and if he's feeling ready for spring.  He's still treating it very gently and is pretty up front about the fact that it was never anyone's intention to be 100% by February – he's aiming for April 1st – but he's still feeling pretty good.  Given his history of cautionary language, I think that is about as solid an answer we're ever going to get from Joe on his knee.  So, I'm good with it.  But it's still good for all of us to remember that he was actually on crutches about 2 months ago so it's probably a wise precaution if he's being a little less aggressive about his catching workouts early this spring yet.  I don't think that is reason for concern if they are giving Butera and the other 7 non-roster invitee catchers some reps.
And the OTHER big question out there of course, is the other Joe!  It sounds like Joe Nathan is doing very well in his rehab – but as always the team puts on the cautiously optimistic front.  If he continues to improve at the pace he seems to be pushing himself, I do think he'll be a legitimate contender for the closing role.  He's highly motivated to return quickly given his age and the fact that Twins retained Matt Capps.  Do I think it's LIKELY that this will be the case? Well, no. I think the odds are against him but people do occasionally beat the odds and Nathan always had an intensity to pitch that set him apart from others.  We'll see what happens.
The discussion that seems to be lighting up the blogging community is at what point of improvement does Nathan have to be at for Gardy to say, "you're the guy"? Obviously, if his return goes more on a traditional schedule, this really wouldn't be under discussion but when he's already throwing 40-50 pitches in an outing, he's getting higher velocity, his location is good and in general WANTS to be the guy which shows the mental fortitude necessary to be a closer, we definitely have to talk about it.  He's not a starter – this isn't a guy who is going to need to pitch for 7 innings or even start the season at 5.  Joe Nathan COULD pitch two innings when necessary but we all have to admit that none of us really ever wanted to see that happen.  We want one inning of balls to the wall pitches that make opposing batters look silly.  Nathan is in a perfect position to be able to produce that if he can get that perfect location he was known for back.  Obviously, his velocity is still about 3 mph slower than his average before surgery but that may yet come along in ST AND he's a savvy experienced pitcher who knows how to get the job done even when he doesn't have his best stuff… if anyone could come back in a single year, it's Nathan.
BUT
Do we want him to push it that hard and do we really think that he'll be ready?  How ready is ready?  If Nathan is 80% of his former self at the beginning of the season, is that enough to give Matt Capps the setup role?  Especially since multiple innings and tighter scores are frequently within the domain of the 7th inning setup man. We don't have Guerrier or Crain anymore for whom that spot always pointed to.  What about a 60% Nathan?
Honestly, I don't know but I'm REALLY REALLY REALLY looking forward to seeing some games so I can see him throw in a real mound situation.
I'm also looking forward to seeing how much progress Pat Neshek has made.  I am giddy with hope for the return of the crazy sideshow! I am certain that our depleted bullpen would be ecstatic to have that arm back with the ability to perform that we all remember.  I'm sure that he's itching more than anyone to have his surgery ordeal completely behind him.
EDIT: We have another post-surgery update – totally forgot about Scott Baker! Yes, things are progressing.  But he's not quite where he wanted to be at this point of the pre-season.  In discussions with the training staff and his docs, they have actually backed off his program just a little bit because the elbow was flaring up a bit.  I think that is a wise move since he IS a starter that we would like to start the season being able to pitch MULTIPLE innings.  Funny how it works that way.  He estimates that his season-readiness is about a week behind the rest of the pitching staff.  My only issue with that is that I don't see how someone coming back from surgery "catches up" but a week of the long baseball summer is really negligible.  It's just sometimes hard to remember that.  Every game counts.
And of course all of this plays into who of the 6 starters currently on our roster makes the cut on opening day and who is helping the team at the back end of the game instead.
Also – in readiness for the new baseball season, I have changed our countdown to reflect the Season Opener! And you will all be wanting to see the Spring Training Schedule so that you will be able to join us for any game chats you are free for.
Yes, it's THAT time of year again!  Knuckleballs will be return to the regularly scheduled game chat so watch for posts announcing the days selection so that you can join whoever else is taking a break from the weary dregs of MN winter to catch whatever baseball can be found.  I'm not exactly sure what the broadcasts will be but anything that is either televised or radio broadcast, we'll try to have a chat for.  That should get us back into the habit for the regular season!