If you've been paying attention to reports coming out of Ft. Myers for the past week or so, you've no doubt read or heard about various Twins playing in minor league games and perhaps you've wondered just exactly what that means… and why these established stars would be playing in minor league games.
It seems like there has been even more of that kind of thing this spring than normal and that's probably due to a couple of reasons. First, so many Twins missed the first several spring training games and they need to get a few extra cuts in order to get their timing down. Second, the quirks of this spring's schedule resulted in the Twins playing most of their games over the past week or so on the road and the organization hasn't been anxious to make stars with various aches and pains compound those issues by spending several hours on buses crisscrossing the state of Florida.
But what exactly does it mean when it's reported that Justin Morneau or Jim Thome is "2 for 4 in a minor league game"?
As I've mentioned in another post, the best way I can think of to describe what happens is to envision these Major Leaguers showing up to play in your Sunday afternoon beer-league softball game. The scattering of fans who happen to be hanging out around the minor league complex to watch their games get that kind of close-up view of whatever Major League Twins might be participating in a given day.
On Tuesday, before heading to the airport for my flight home, I stopped by the Twins minor league complex to watch a few innings of the games being played there. On this particular day, there were two games going on between the Low A and High A Twins and their counterparts from the Rays camp. Jim Thome DH'd in the Low A game, while Michael Cuddyer and Justin Morneau played RF and 1B, respectively, in the High A game.
They gave those fans in attendance plenty to watch.
You see, the Major Leaguers hit every inning. For example, in the High A game, Cuddyer and Morneau batted second and third… every inning for as long as they stayed around. That's how these players get 4-5 plate appearances while only playing half the game.
If course, you have to curb your enthusiasm a bit when you hear that one of these guys launched a couple of home runs in one of these games (as Thome did in one such minor league game earlier this week), because they're often facing 19-20 year old Class A pitchers who show up expecting to face guys destined for Beloit and find themselves trying to slip an inside fastball past MVPs and future Hall of Famers!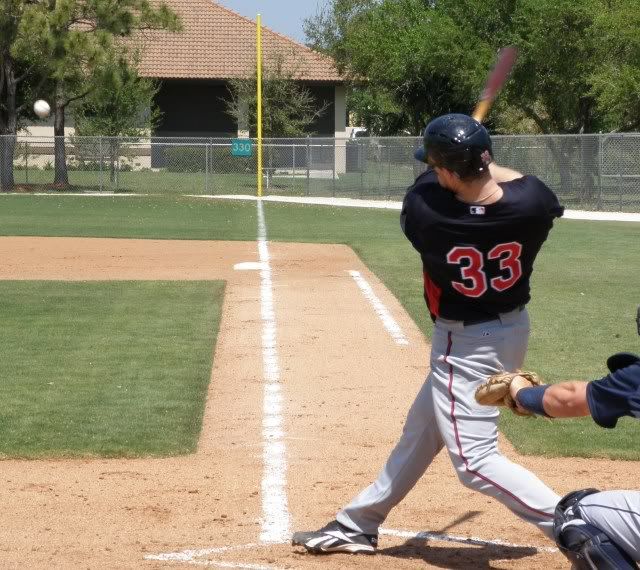 Of course, the games aren't all you'll see on the minor league complex. When I arrived, a familiar face was dragging the practice infield adjacent to the minor league clubhouse and an hour or so later, a Hall of Famer was hitting ground balls on that practice field to a couple of minor league first basemen.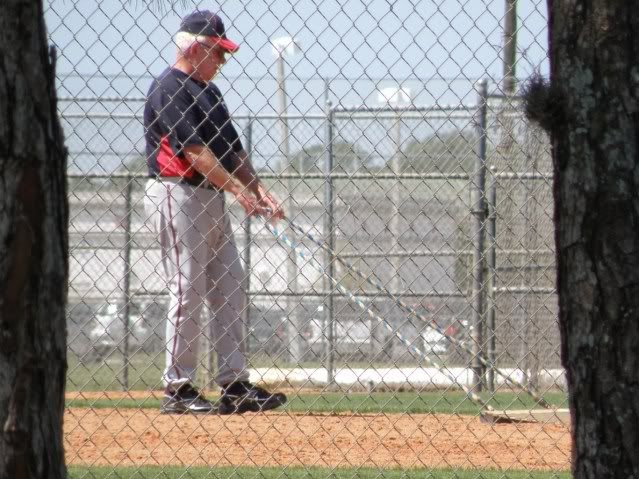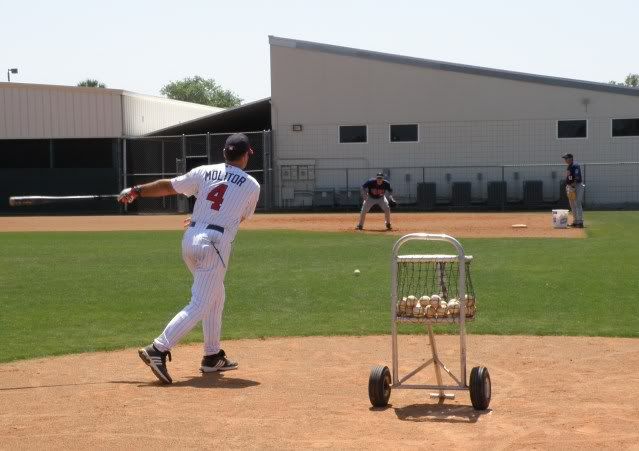 All of this is just a long way of letting you know that, if you ever go down to Ft. Myers during Spring Training, only to find that the Twins are playing road games while you're there, don't let that dissuade you from checking out the action at the Lee County Sports Complex. Not only can you watch the Twins stars of tomorrow playing games there every afternoon, but you may get a closer look at some of the Twins' stars than you're ever likely to get anywhere else.
A few more pictures from the Tuesday minor league games… not much for zoom lenses needed for most of these pictures.
– JC