Let's be clear about one thing… the Twins' ultimate success or failure is not going to be determined by who they leave Ft. Myers with as their last bench player or their last arm in the bullpen. That said, I think Ron Gardenhire's decisions on those two spots were bad choices and he's going to regret them at some point pretty soon.
This morning, reports from Ft. Myers are that Matt Tolbert has won the utility infield position and Luke Hughes has been optioned to Rochester. In addition, Jim Hoey has been sent down, so assuming Scott Diamond is either returned to Atlanta or kept via a trade of some sort, Glen Perkins, Jeff Manship and Dusty Hughes will fill out the bullpen.
I really don't want to make too much of these final cuts because, as I said, the choices for the last cuts seldom play a major role in deciding a team's ultimate fortunes. But I think not having Hoey and Luke Hughes around is going to cost a couple of ballgames.
Neither of those guys is destined for the Hall of Fame. There are reasons they were competing for the last roster spots and not headlining some team's lineup. Hughes demonstrated he can hit big league fastballs very, very hard. He also demonstrated he can strike out a lot. Hoey showed he can throw a baseball harder than anyone in the Twins organization and maybe as hard as anyone in Major League Baseball. He also demonstrated he doesn't always throw it exactly where it needs to be thrown. He's not a prototypical Twins pitcher.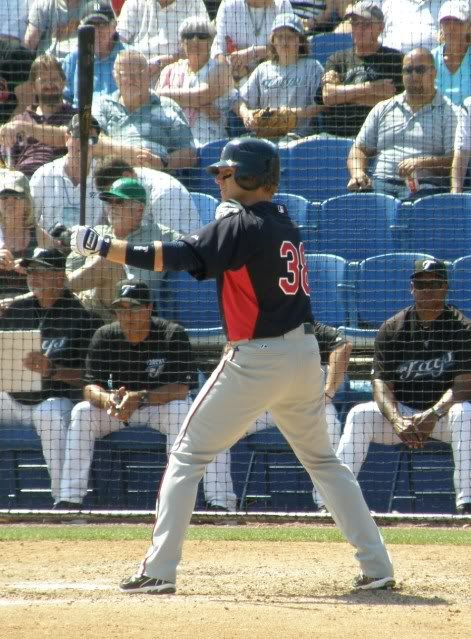 But think back to when everyone was assuming Jim Thome may be signing elsewhere and people thought the Twins should be looking for a right handed hitter with some pop in his bat. The guys people were writing about didn't profile a whole lot differently than Luke Hughes. The first time a situation arises late in a game when a right handed pinch hitter with power would be nice to have and the best Gardy can do is send Matt Tolbert to the plate, people will be writing about how he could have had Luke Hughes available. I know they will, because I'll be one of the people writing exactly that.
Same with Hoey. I know the Twins like to promote from within and there's a lot of sentiment that it's Jeff Manship's "turn". That's fine. But there are going to be situations… probably many of them… when you want someone with high-90s velocity to take the mound. When you look to the bullpen and see a batch of middle relief arms that all throw the same low-mid 90s fastball, remember there WAS another option and he didn't get the gig because he's not the kind of pitcher Gardy and Rick Anderson "like".
I hope both Hughes and Hoey take their demotions in stride, work their butts off and show the organization they made a couple of mistakes. Then when someone, hopefully, realizes they made those mistakes and brings those guys up, they take advantage the way Denard Span did when he was among the last cuts a couple of years ago. Hughes and Hoey could both still prove to be important cogs in the Twins machine if they go to work to improve their games… and the Twins braintrust wakes the hell up.
– JC