If you haven't read JC's weekend rants, you really should – we would like ALL our readers to join in to see if we can't start raising the discussion about the MLB.tv blackouts – "watch every game" my butt.  It's ridiculous and fans actually should push back.
Bak to Twins baseball, it would be really great if the Twins could actually win one game in Canada this weekend. I would like that.
| | | |
| --- | --- | --- |
| Minnesota | @ | Toronto |
| Span, CF | | Escobar, Y, SS |
| Nishioka, 2B | | Rivera, J, DH |
| Young, D, LF | | Bautista, J, RF |
| Morneau, DH | | Lind, 1B |
| Cuddyer, 1B | | Hill, A, 2B |
| Kubel, RF | | Encarnacion, 3B |
| Valencia, 3B | | Snider, LF |
| Butera, C | | Arencibia, C |
| Tolbert, SS | | McCoy, CF |
| Blackburn, P | | Cecil, P |
That was a bit more dramatic than I would have preferred it to be, but at least there will not be a 0-162 season in the Twins' immediate future.
It's good to get out of Toronto with at least one win before moving on the take on the Evil Empire tomorrow. It would have been nice to have Nick Blackburn go a bit deeper in the game, but at least he battled his tail off while he was in there and certainly accounted for the best performance by a Twins starting pitcher so far. Jason Kubel, Danny Valencia and even Drew Butera had significant offensive contributions, while Matt Capps put up a shut-down inning in a set up role for Joe Nathan. Twitchy certainly reminded us of his flair for the dramatic, giving up a run and loading the bases before getting the final out for the first save of the year.
But the GameChat's pick for the first Boyfriend of the Day (that's BOD, for you newbies around here) is Denard Span. Denard had a couple of big hits, including a home run for insurance that provided what turned out to provide the margin of victory!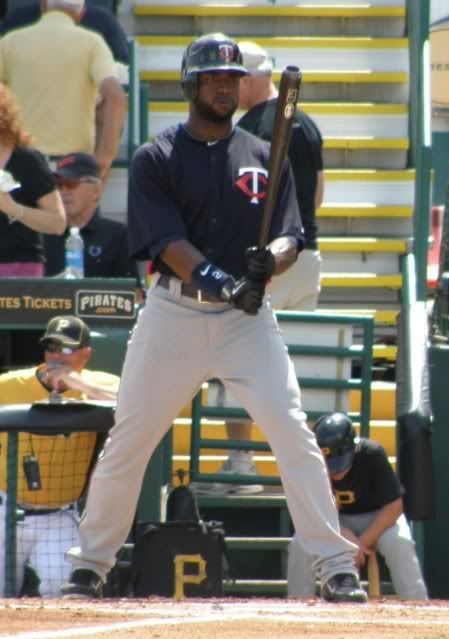 .