Some of you may still recall my rant a week or so ago about the absurd, insane, unfair, and downright indefensible blackout rules that prevent me (and all of my fellow Iowans) from watching Twins (and Brewers and Cardinals and Royals and Cubs and White Sox) games online. I mentioned somewhere in that rant that this would be my 51st and final year as a Twins fan if the rules don't change by next year… which I know they almost certainly won't do.
Many of you, I'm sure, believed that vow to be nothing more than an emotional (over)reaction to a situation that has, after all, existed for years and that I would eventually calm down and remain a lifelong loyal Twins fan. It's a fair assumption.
It's also going to prove to be an erroneous assumption. I'm going to burn all of my Twins gear… 3 jerseys, 3 Spring Training sport shirts, at least 3 caps, and more t-shirts than I can count… on Opening Day 2012 if the Twins still insist on including Eastern Iowa in their "protected home market", despite FSN not bothering to do what it takes to actually get carried on a local cable provider.
In fact, I've already chosen the team I plan on devoting my fandom to, in place of the Twins. I'll be trading in my navy and red for the black and orange of the Baltimore Orioles.
As a matter of fact, thanks to those absurd, insane, unfair, and downright indefensible blackout rules, I've actually already watched more Orioles baseball than I have of the Twins.
And I gotta say… I'm loving this year's Orioles team.
I expected them to be better than they have been in several years. In fact, in my "offbeat predictions" post last week, one of the limbs I went out on was to predict the O's would finish second in the AL East this year. That was before Baltimore went on to win their first four games of the season, with a sweep of the Rays down in St. Petersburg and before the Red Sox lost their first six (and counting) games of the season!
As you may be able to tell, I'm actually getting excited for this team. The "veteran" sluggers they brought in to shore up their offense haven't even started hitting yet. Vlad Guerrero finally hit his first HR of the season tonight, Derrek Lee has just one (as of the 5th inning of Thursday's game, which I'm watching as I write this), and Mark Reynolds still hasn't gone yard. (It seems the Twins aren't the only team yet to get much thunder out of the heart of their batting order.)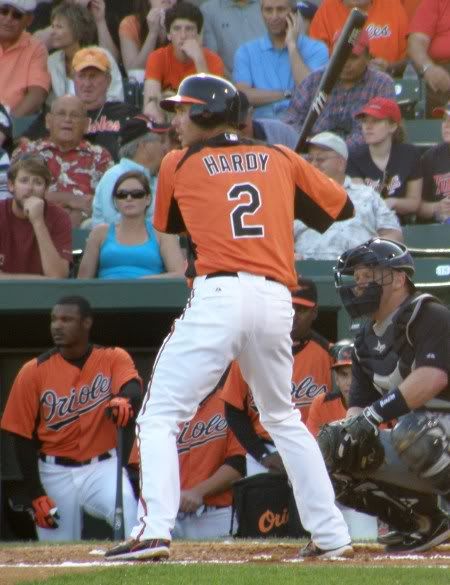 But Brian Robers has been hot and good old "number 2 in your program and number 1 in your hearts" JJ Hardy has been a double machine. He may only have three hits on the season, but they've all been two-baggers. And the young starting rotation has really done a nice job so far.
It's actually kind of fun to root for a young-ish team on the rise (hopefully), that's been built by former Twin GM Andy MacPhail and is being managed brilliantly by Buck Showalter. Only the Twins, among AL teams, had a better record from August through the end of the regular season last year than the Orioles did.
As an Orioles fan, I still get to vehemently root against the F'ing Yankees and the East Coast Bitch Sox.
Of course, the BEST part about becoming an Orioles fan is that I get to actually watch them play every game. OK… not EVERY game… for example, later this month when they host the Twins, I WON'T be able to watch those games (thanks to the absurd, insane, unfair, and downright indefensible blackout rules).
But there's a chance I'll be in Baltimore the last week of April and they're hosting the Red Sox for three games that week, so there's a very real possibility that I'll actually be watching my first regular season MLB game in Camden Yards, instead of Target Field, this season.
I've even started checking out some of the Orioles blogs (scouting the future competition, you might say). There don't seem to be nearly as many as the umpteen million Twins blogs around so I think maybe that's a lineup that could use me!
And with that.. YESSSSSSSSS Adam Jones just tied the Tigers 4-4 in the sixth with his first HR of the season!
I wonder if there's a song I need to learn. Ah well… until I find out, I'll just stick with…
~You can get anything you want at Alice's Restaurant~
– JC