Baseball is finally back in Minnesota!
Mother Nature is even getting into the swing of things by finally bring Spring to our neck of the woods yesterday.  For the first time since November 10, 2010, we actually broke 60 degrees.  The absolutely perfect weather definitely put me even more in the mood for baseball.  Turns out, the game today will have similar temperatures and a little bit of cloud cover instead of the sunshine that is currently shining down brilliantly – or so they say.  Of course last year they said it would rain on the home opener and we all wore our gear and went anyway and the sun broke out in a beautiful way.  All I can say is that Minnesota is offering baseball a much bigger welcome than NY did!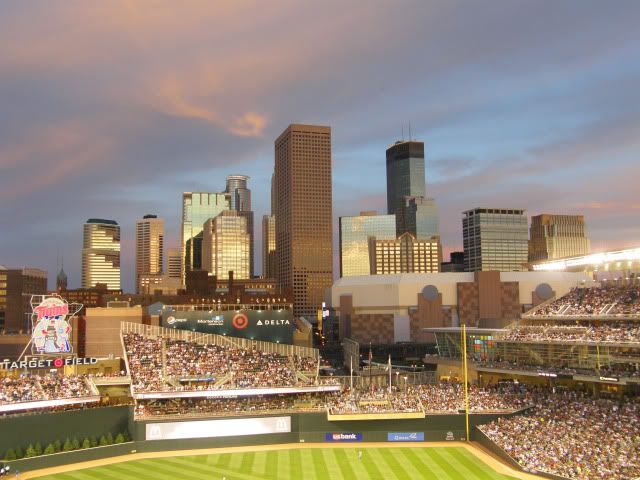 For all of you who can't go to tonight's game – like me – am1500 ESPN will be broadcasting all day – but for those of you who can get over there, here's a schedule of the activities:
Friday, April 8 vs. Oakland Athletics (3:10 p.m.) -Target Field ® Home Opener

5 a.m. to 9 a.m. – The Twins will host 1500 ESPN Twin Cities for a live broadcast of Mike & Mike from the Carew Atrium in the Delta SKY360° Legends Club. More info here: http://1500espn.com/pages/promotions/MMbroadcast/
11 a.m. – Target and the Minneapolis Downtown Council will host a rally at Peavey Plaza on Nicollet Mall and 11th St., featuring games and activities for the entire family.
11:30 a.m. – The Twins, in conjunction with the Minnesota Ballpark Authority, will unveil the Tony Oliva bronze legend, created by local artist Bill Mack, outside Gate 6
12 p.m. – Gates open – legendary Twins players will ceremonially open their respective gate (Harmon's sons Ken and Cam Killebrew at Gate 3, Tony Oliva at Gate 6, Kent Hrbek at Gate 14, Rod Carew at Gate 29 and Kirby Puckett, Jr. and Catherine Puckett at Gate 34)

 Other pregame events include, in this order:

Twins batting practice
A's batting practice
Grounds crew preps the field
A pre-game video, "Twins Timeline," will feature highlights from 50 seasons of Twins baseball
Jerry White, longtime Twins first base coach, will raise the 2010 AL Central Championship flag
The Twins unveil a "Countdown to Cooperstown" tribute honoring Bert Blyleven, who will be inducted into the National Baseball Hall of Fame on July 24th
Both teams will be introduced along the foul lines
Military representatives will unfurl a giant replica of the American flag
John Gordon, beginning his final season as the Twins radio play-by-play announcer, will raise the Twins Territory Flag
Jerry Bell, Chairman of the Twins Executive Board, will raise the Hennepin County Flag
General John Vessey, former Chairman of the Joint Chiefs of Staff and Minnesota native, will raise the American Flag
The National Anthem will be performed by Rick Oliva, son of Twins legend Tony Oliva, and Maria Versalles, daughter of former Twins shortstop and 1965 AL MVP Zoilo Versalles
Military flyover of F-16s performed by the 148th Fighter Wing of the Air National Guard located in Duluth with fireworks to follow
Ceremonial first pitch thrown by Twins legend Tony Oliva
Twins take the field
Play Ball!
The long wait is over… Baseball is back in Minnesota and it's a good day!
For fun and those of you following along, here's video of Tony O's statue unveiling!
And here's a great read about preparing Target Field for play this spring!