Something to think about… The Twins started the season with a club-record payroll just north of $113 million. At this moment, $53.2 million of that payroll (eight players) is on the Disabled List, leaving them with an active roster payroll of about $60 million. Thought about in those terms, I'd say the Twins are right about where in the standings I'd expect a team with a $60 million annual payroll to be.
We covered a few roster moves in the GameChat post before Thursday night's game in Kansas City, but even more moves have been announced since that time. Let's see if I can give a quick rundown on where things stand with the Twins' roster at the moment.
The Twins moved Mauer and Nishioka over to the 60-day DL this week to make room for some guys to be added, but the other six are "only" on the 15-day DL.
Three players were dropped from the active 25-man roster. In addition to Thome and Kubel going on the DL, infielder Trevor Plouffe was sent down to Rochester.
Ben Revere returned to the Twins in time to play in Thursday's game. He's now going to be joined by infielder Luke Hughes and Brian Dinkelman. Dinkelman has played some infield, but he's primarily been seeing action in the outfield in Rochester. He's hit relatively well in Rochester and swings from the left side, which is something Ron Gardenhire considers important since his two lefty DHs, Kubel and Thome, are gone.
The Twins also obtained minor league OF Jeremy Reed from the Brewers and sent him to Rochester to shore up a Red Wings roster that's every bit as screwed up as the Twins' roster is.
With Nishioka and Mauer expected to return to action over the next couple of weeks, we'll soon be speculating over which current members of the 40-man roster the Twins will drop and risk losing to another team's claim. I personally don't see any shortage of names I wouldn't lose sleep over losing, but don't be too surprised if one of those names is Dinkelman, himself. It wouldn't be the first time the Twins promoted a guy to get short-term use, only to go ahead and try to pass him through waivers a few days later. In fact, they did exactly that less than a year ago when they brought Matt Fox up for a start (a successful start, at that), then tried (unsuccessfully) to pass him through waivers just a few days later when they needed his roster spot again.
Anyway… one thing we can be sure of is that the game of musical chairs the Twins are having to play with their roster isn't about to end any time soon.
As for tonight's game… I hope the gang at Smalley's 87 Club for the TwinsCentric bash is having a good time tonight! I've got some plans with the family for "happy hour", so I'm not sure when I'll be online. Lineups aren't posted yet and since I'm not sure whether one of us will be around to post them when they DO get released, I'm just going ahead and loading up the GameChat now. Hope everyone's weekend is getting off to a great start! – JC
| | | |
| --- | --- | --- |
| Minnesota | @ | Kansas City |
| Span, CF | | Gordon, LF |
| Casilla, A, SS | | Cabrera, Me, CF |
| Morneau, DH | | Hosmer, 1B |
| Cuddyer, 1B | | Francoeur, RF |
| Valencia, 3B | | Butler, DH |
| Young, D, LF | | Betemit, 3B |
| Revere, RF | | Pena, B, C |
| Hughes, L, 2B | | Getz, 2B |
| Butera, C | | Escobar, A, SS |
| Pavano, P | | Duffy, P |
Two in a row! That almost constitutes a winning streak! This was almost like the old days… hits all over the place, including a double and a near inside-the-park-HR by Denard Span, guys running around the bases, trying to take that extra base (even though it doesn't work sometimes), and a complete game by Carl noStache Pavano.
In fact, that complete game… his 100th career victory… earned Pavano our Boyfriend of the Day award for tonight!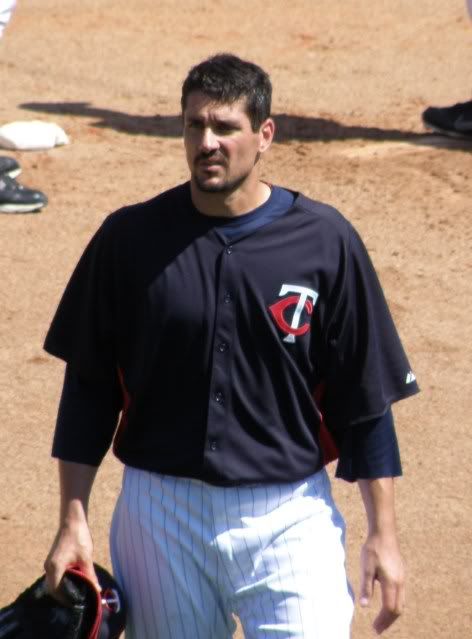 ,