I like beating the White Sox… let's do it AGAIN! oh yeah, and the big story for today is Nishi's return to the lineup – playing SS & batting 3rd. This should be interesting.
| | | |
| --- | --- | --- |
| Chi White Sox | @ | Minnesota |
| Pierre, LF | | Revere, CF |
| Ramirez, Al, SS | | Casilla, A, 2B |
| Quentin, RF | | Nishioka, SS |
| Konerko, 1B | | Cuddyer, RF |
| Pierzynski, C | | Young, D, DH |
| Rios, CF | | Hughes, L, 1B |
| Dunn, A, DH | | Valencia, 3B |
| Beckham, 2B | | Rivera, R, C |
| Morel, 3B | | Repko, LF |
| Buehrle, P | | Blackburn, P |
Yes, I know it's just a two game series but it's still a SWEEP of the BitchSox!
I played hooky this afternoon to go home and watch the game and at the end of the game, I was the only person in GameChat. You would think that when there's only one voter in Chat to cast a BOD vote it would be a pretty easy thing to determine. But not really.
It was nice to see Tsuyoshi Nishioka back on the field and the Sox certainly gave him plenty of fielding opportunities at shortstop. He had 8 assists and made a couple of additional very nice fielding plays where he wasn't quite able to get the throw to 1B in time for the out. His arm is clearly not as strong as Lexi's, but he looks comfortable over there. He did boot one ground ball that coulda/shoulda been a DP. Welcome back Nishi!
The Twins got the win today, but let's not kid ourselves, this was not a really good game for the Twins, as a team. Four hits? Two errors? Mark Buehrle pretty much dominated this line-up… with one exception. Michael Cuddyer showed that he still owns Buehrle. He had two hits, including the one he launched in to the bullpens to lead off the second inning, accounting for the only run by either team in the game.
Nick Blackburn threw eight shutout innings without really breaking much of a sweat. He walked one, struck out one and spread 7 hits over the 8 innings. I admit I was queasy about bringing in Matt Capps to pitch the 9th inning, especially with Adam Dunn due up in the inning, but while Capps gave upa single to Dunn, he shut down everyone else to earn the save.
In the end, my right brain and left brain couldn't agree on a BOD, so we're going to have co-BODs today… Blackie and Cuddy.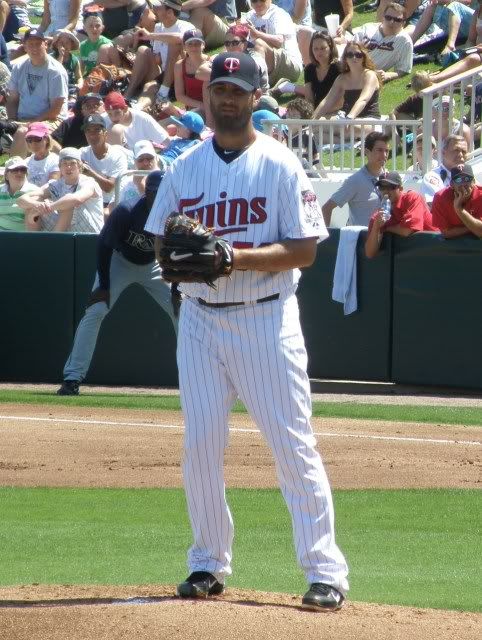 .