First things first, the Twins are retiring Bert Blyleven's number today and the festivities start at 5:30 if you are able to turn into FSN early.  For those who are watching from elsewhere and won't have that coverage, I'm sure that there will be clips later on the Twins website and Kristie is at today's game hopefully getting us some pictures from a first-hand view.
Secondly, the "official" word came down from Tom Pelissero on Twitter that Matt Capps is out at Closer and the assignment has been returned to Joe Nathan. I'm definitely in favor of tha move and that does NOT mean that I don't think that Capps is a bad pitcher or should go to AAA. I just think he needs a little less pressure as he works through a fairly common for all pitchers downturn in his stability. Let the man go through hte same kind of "rehab" that Nathan did working through the beginning of this season and get him back to being a good pitcher.
Thirdly, just a reminder for Twins fans everywhere working off an original calendar: Monday is now a day/night split double header to make up for the earlier rainout with Cleveland.  The first game will be at 12:10 and the second at 7:10 as originally scheduled.
I would like to see Pavano be able to go out and do a solid outting and get us back into the win column – sadly, Blackburn did a good job last night but the offense is going to have to break out the bats if they want to get the W.
| | | |
| --- | --- | --- |
| Kansas City | @ | Minnesota |
| Getz, 2B | | Revere, CF |
| Cabrera, Me, CF | | Casilla, A, 2B |
| Gordon, LF | | Mauer, DH |
| Butler, DH | | Cuddyer, 1B |
| Hosmer, 1B | | Young, D, LF |
| Francoeur, RF | | Valencia, 3B |
| Moustakas, 3B | | Plouffe, RF |
| Pena, B, C | | Butera, C |
| Escobar, A, SS | | Nishioka, SS |
|   Francis, P | |   Pavano, P |
It's good to get back in the W column again, but this 4-3 win over the Royals seemed more difficult than it should have been. Nevertheless, as Nuke said, "winning is better than losing."
The night got off to a great start with the Twins doing a great job on the ceremony retiring Bert Blyleven's #28. It was well done, without dragging on the way some of those things do.
The Twins gave Carl Pavano some early run support, which is always appreciated by starting pitchers. Pavstache threw a nice game, though he called it an early night (for him) after just 97 pitches in seven innings. On the other hand, maybe it was just the heat and humidity. Glen Perkins K'd two in a perfect 8th inning and Joe Nathan, in his return to the closer role, gave up a lone single to close out the Royals in the 9th. All three pitchers deserve our thanks and a cold brew of their choice (assuming all the good beer in Minnesota hasn't been pulled off the shelves due to the shutdown).
It was an odd night offensively for the Twins. Some infield hits. Some questionable defense by the Royals. Some odd baserunning. In the end, our GameChat's Boyfriend of the Day award goes to the only guy to get more than one hit for the Twins… and the guy who came through with the game-winning 2-out RBI in the bottom of the 8th inning. Michael Cuddyer, you are our BOD! – JC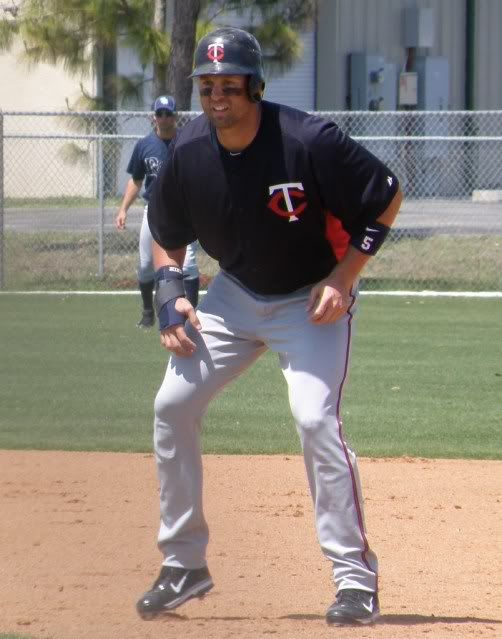 .