Today is the day the Twins retire Bert Blyleven's number 28. Blyleven will join Harmon Killebrew, Tony Oliva, Rod Carew, Kirby Puckett, and Kent Hrbek in being so honored. It's somewhat amazing to realize Bert played with all of the others. He virtually bridged the gap between  the early glory days of "Tony, Killer and Carew" and the group headed by Puck and Hrbie that brought the franchise back in to relevance almost two decades later.
Blyleven is just five years my senior, so I remember well both of his terms with the Twins (1970-76 and 1985-88), not to mention the period in between when he toiled for the Rangers, Pirates and Indians.
Of course, in those days, you didn't get to watch every MLB game played on TV or a computer. There were no sports bars to go watch games on satellite. If you didn't live in a "home market", you saw the Game of the Week on Saturdays and that was it, at least until the Superstation days that brought the Cubs and Braves to a national audience.
So when I watched a baseball game, I REALLY watched the game. I particularly watched pitchers, since that was what I was… or at least saw myself as being (my coaches didn't always seem to concur).
Watching Blyleven was amazing, to me. Specifically, that curveball made my jaw drop. I couldn't imagine trying to hit that thing.
Of course, his talent wasn't all there was to like about Blyleven. Even in days before the internet, there were stories about his practical jokes. I swear, if you were a team mate of his and your game was on the Game of the Week (and he wasn't pitching that day), you really had to expect to have your shoelaces set ablaze or something equally absurd AND to have the whole thing broadcast to a national audience.
I even liked when he demonstrated a distaste for reporters.
Of course, it's quite possible that his open disdain for the media at times went a long way toward assuring he would have to wait longer to be elected to the Hall of Fame than he otherwise may have had to wait.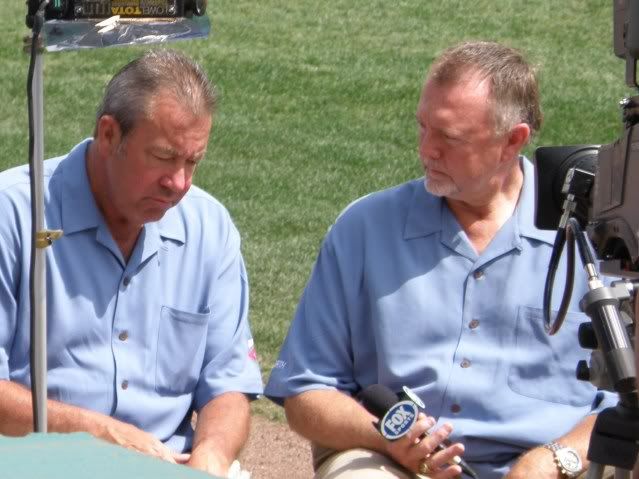 Sometimes I think Bert's work as a broadcaster has come close to almost creating a caricature of himself. I think a lot of us have grown weary of the "circle me Bert" routine, perhaps even Bert, himself. But there is clearly still a significant segment of the fan base that eats the corniness up and playing to the broader fan base is a big part of a home-team broadcaster's job these days. Even his infamous F-bomb broadcast a few years ago did nothing but make him more popular with the fans. He really does seem like "one of us".
His broadcast gig has ingrained himself even deeper in to the fabric of the Minnesota Twins. Despite spending less than half of his service time as a Twin, it's the organization that he is… and likely always will be… most closely associated with.
And it's right that it should be so. There's no doubt in my mind that his #28 should be retired by the Twins. In fact, I've always felt it should have been done long ago.
So, Bert, congratulations on the honor the Twins bestow on you today and congratulations on your election in to the Hall of Fame. I'm looking forward to hearing your acceptance speech from Cooperstown.
Don't F*** it up.
-JC