By my count, there are only 13 current Twins who are relatively certain to be on the Twins' payroll on Opening Day, 2012. If that's true, there are a dozen roster spots up for grabs. Of course, this could (and likely will) still change a bit if the Twins find a way to jettison some more of the players currently under contract. Either way, there's a fair amount of money coming off the books after this season, so the Twins have some money to spend.
So here's our mission… let's spend the Twins' money. Sure, it might make sense to hold off on this kind of thing at least until the current season is over, but hasn't this season been pretty much over for at least a month already? Besides, just because we do this now doesn't mean we can't do it all over again this winter!
The 12 spots we need to fill consist of seven pitchers (assuming a 12-man staff), two starting outfielders, and five other position players (or, if you prefer, a DH and four other position players). I think we also need to take in to consideration the possibility that the Twins will have to eat the $3 million they owe Tsuyoshi Nishioka for 2012. If that's the case, we'll need to look for room in the payroll for another position player.
I know we're all programmed to believe the Twins have to fill their roster on a shoestring budget, but that's simply no longer the case. As long as those of you in the Twin Cities area keep putting your butts in the Target Field seats, the Twins will have money to spend. We've been waiting for decades to see the Twins get seriously active in the free agent market and given what's gone on this season, there has perhaps never been a time when it has been more critical for the organization to do just that.
As a bonus, thanks to the miserable season the Twins have had this year, they wouldn't have to cough up their first round pick in the amateur draft if they decide to go shopping for a Type A free agent. The top 15 picks are protected, so the Twins would lose only their second round pick if they snag one of the Type A players. It may not sound like much, but that's no small consideration. It may never be cheaper for the Twins to go shopping at the high end of the market.
So let's see what's out there that might match up with Bill Smith's shopping list. This should be easy, right? After all, it's not OUR money!
For the sake of convenience, we'll look at positions based on the same groupings that the Elias Sports Bureau uses to establish whether players are Type A, Type B (or neither) for the purposes of teams being compensated for losing a free agent. By the way, Elias keeps their formula for determining how they rank players a super-secret, but the good folks at MLBTradeRumors.com believe they have been able to approximate the formula and we'll use their current rankings for our purposes. You can see them for yourself here. Coincidentally, as I finished drafting this post late Wednesday night (or was it early Thursday morning?), I noticed TwinsGeek has a nice piece on this process and what it could mean for a couple of current Twins.
To begin our journey, let's start with catchers.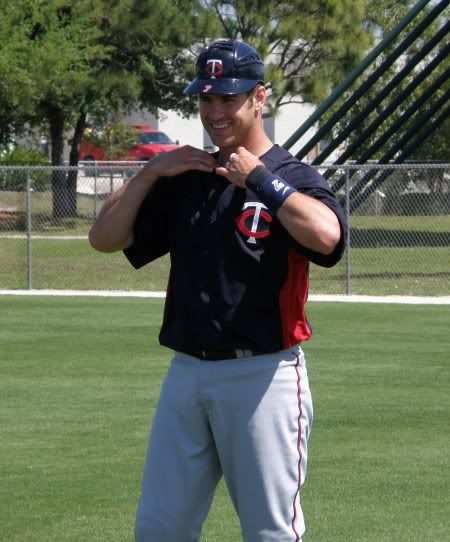 Yes, I realize that the Twins have a catcher that they will be paying $23 million per year over the next several years. But as we've seen this season, it's folly to assume that means Joe Mauer will be catching 140 games every season. Drew Butera may be back next year and, if so, the Twins will pay him the MLB minimum. But if the Twins intend to save some wear and tear on Mauer's body by having him play elsewhere a fair amount of the time, it would certainly seem to be worthwhile to at least look around to see what else might be available.
Unless the Cardinals decide not to pick up their option on Yadier Molina, there may be only one Type A catcher on the market and that's 35 year old Ramon Hernandez of the Reds. Unless and until the Twins decide to move Mauer permanently out from behind the plate, it would be foolish to bring in a Type A free agent catcher anyway.
Type B catchers would include Jose Molina (Jays), Jason Varitek (RedSox) and Rod Barajas (Dodgers). All three players are in their mid-to-late thirties and only Barajas has been what could be considered a 'full-time' catcher this season. Molina and Varitek were paid $1 million and $2 million, respectively, this season. It's hard to imagine Varitek not being in Boston, but I'd certainly be willing to spend a million or two to have either of those guys catching 50 games in 2012 and ready to do more if Mauer once again has health/injury issues.
On the other hand, if you can't get one of the Type B guys, you're likely looking at trying to pick up a Gerald Laird-Matt Treanor-Henry Blanco type and, frankly, I'd probably rather just bring Butera back.
Maybe this isn't going to be so easy after all, I'm pooped and we've only talked about one position.
In part 2, we'll tackle 1B, OF and DH. In Part 3, we'll fill out the rest of the infield. In Part 4, we solve all the Twins' pitching problems (yeah, right).
– JC