Last week, I posted my choices for the Top 10 Twins Minor League Prospects. I don't pretend to be an expert on the organization's minor leaguers, by any means, but that doesn't mean I'm not a big fan of minor league baseball. I am.
I live in an Iowa community (Cedar Rapids) that is home to a minor league team… the Kernels… that is the Midwest League affiliate of the Angels. The Midwest League, for those not familiar with it, is a "Low Class A" league, which means that most of the players are in the early stages of their professional careers. You see a lot of 19-23 year olds who physically don't look a whole lot different than what you might see playing ball on college and even high school ballfields around the country.
Everyone understands that the odds are stacked against these kids. A select few will ever get so much as a cup of coffee in the Big Leagues and fewer still will have substantial Major League careers. But the dreams are still there. Why? Because it does happen… guys do make it to the top. It's not just the high draft picks and big-bonus international signings, either. Players that are playing in Cedar Rapids and Clinton and Burlington and Beloit for barely enough money to pay for pizza once or twice a week do get their chances to grab the brass ring.
I was reminded of this earlier in the week when I read this news item from the Kernels' web site. When the Angels open their Spring Training camp in Tempe AZ, all of the media and most of the fans will be focused on newcomer Albert Pujols, but I'll be following a few other guys more closely.
Of the 60 players invited to the Angels Big League camp, 34 of them are former Cedar Rapids Kernels and while I can't say I remember a lot about each and every one of them, I do attend enough games that I can say with certainty that I've watched all of them play ball here. Some, like Ervin Santana, have already had pretty fair MLB careers, some have some lofty expectations (that would be you, Mike Trout) attached to them, but many others are anxiously looking forward to an opportunity to make the most of this shot to impress the Angels' brass and beat the long odds they faced when they were Kernels.
All of this got me wondering if the Twins had a similar number of former Beloit Snappers showing up in Ft. Myers when camp opens there. After all, I make a pretty significant effort to see as many games as I can when the Snappers come to Cedar Rapids, so I'm likely to have seen almost all of whatever group of Snapper alums there will be in the Twins camp.
It certainly would have been nice if whoever posts the news to the Snappers' website had done this work for me like Andrew Pantini did on the Kernels' site, but alas, such was not the case. So I did a little research on my own. In doing so, I was reminded that through 2004, the Twins' MWL affiliate was the Quad Cities River Bandits.
In any event, with the addition of Joel Zumaya, the Twins will have 65 players in the Major League camp to start Spring Training and it turns out that 24 of those players spent time with either Quad Cities or Beloit as they worked their ways up the Twins organizational ladder.
The group includes the following former River Bandits (with year in parens): Justin Morneau (2001), Joe Mauer (2002), Scott Baker (2003), Nick Blackburn (2003-04), Glen Perkins (2004), Denard Span (2004); and these former Snappers: Trevor Plouffe (2005), Anthony Swarzak (2005), Luke Hughes (2005), Kyle Waldrop (2005-06), Brian Duensing (2006), Joe Benson (2006-08), Chris Parmelee (2006-08), Alex Burnett (2007), Jeff Manship (2007), Tyler Robertson (2007), Danny Valencia (2007), Brian Dinkelman (2007), Rene Tosoni (2007), Danny Lehmann (2008), Ben Revere (2008). Liam Hendriks (2009-10), Brian Dozier (2010), and Oswaldo Arcia (2011).
I did see an awful lot of one additional current Twin during his time in the Midwest League. Alexi Casilla spent parts of 2004 and 2005 with the Cedar Rapids Kernels prior to the Twins swapping JC Romero to the Angels for Lexi. As a matter of fact, an additional 16 players that will be in the Twins Major League camp spent time riding the buses from one MWL stadium to another while playing for other organizations.
Will all of the prospects that will start Spring Training sharing a Big League clubhouse with Joe Mauer and Carl Pavano become significant contributors to the Twins this year (or ever, for that matter)? Of course not. But they each have reached a very important milestone… an invitation to Major League Spring Training.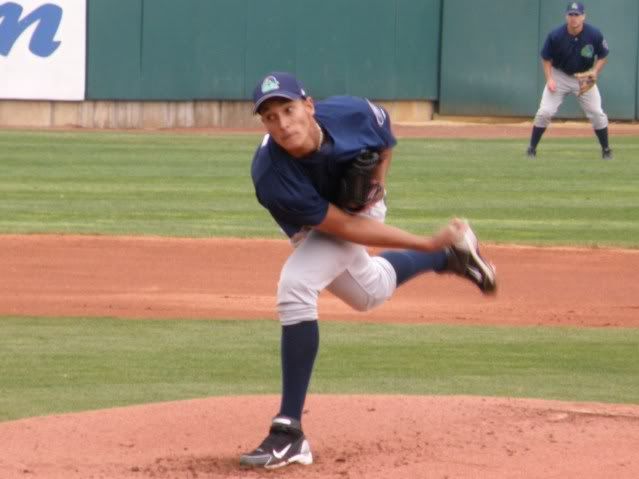 Of course, not all of the best and brightest Snappers of recent years will be in the Big League camp. Anyone making a trip to Ft. Myers will have to slip over to the minor league fields to check out Aaron Hicks (2009-10), Angel Morales (2009-10), James Beresford (2009-10), Danny Rams (2009-10), BJ Hermsen (2010-11) and Adrian Salcedo (2011) .
But 2012 could shape up to be a banner year for the Snappers as a number of the organization's top prospects could suit up for Beloit at some point this season, including Eddie Rosario, Levi Michael, Travis Harrison and the Twins' consensus top prospect Miguel Sano.
The prospect of watching these players, as well as the latest crop of Angels prospects that will be suiting up for our local Kernels, has me just as anxious for the Midwest League season to get started as I am to see the Big Leaguers take the field.
No, it isn't enough to keep me warm while I deal with temperatures that are preceded by minus signs, but at least it's something to look forward to.
– JC
P.S. If I've sparked your interest or curiosity about the Twins minor leaguers, if you're planning on making the trip to Ft. Myers for Spring Training, if you are thinking about a road trip to check out one of the Twins' minor league affiliates in action this season, or if you just like to know more than your friends about these guys, you REALLY need to order Seth Stohs' Minnesota Twins Prospect Handbook for 2012. It's full of information about over 150 Twins prospects, plus several other feature articles… and it's available for order now! Click here and order yours today.