I'm not an idiot (most of the time). I know the Detroit Tigers are consensus favorites to win the AL Central Division title again… probably by double digit games again. I know the Twins are not widely viewed as the most likely team to challenge the Tigers if such a challenger does emerge.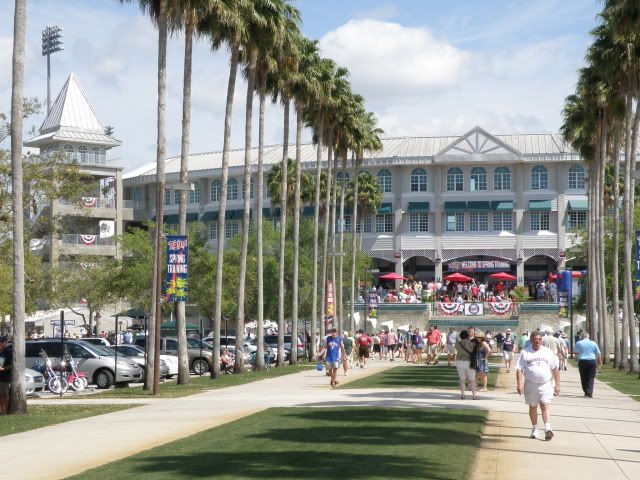 But as I mentioned a few days ago, Spring Training is my Mardi Gras! I'll deal with reality on Opening Day. For now, I'm going to enjoy the simple fact that baseball is being played a few miles south of where I live (OK, a few hundred miles, but who's counting?). I'm not going to get dragged in to the negativism that others seem hell-bent on maintaining. I'm not judging them… I'll even appear on their podcasts occasionally… it's just not what I want to be feeling this time of year.
I want to find reasons for hope and if some so-called "serious fans" think that's a bad thing, for whatever reason, I can live with that.
With that in mind, I went looking for reasons for hope this week and I found a few. No, they aren't reasons to be confident (if you find some of those, send them my way please!), but I don't need confidence right now… a little hope, however realistic or unrealistic it may be, is all I need.
I found some hope, too. In fact, Tom Verducci of Sports Illustrated (si.com, to be precise) gave me a handful of things to grasp on to. Some of them even reinforced opinions I already held, which is always convenient. Here are a few things Verducci brought up (click here for the link) that a Twins fan can grasp on to if she/he feels so inclined:
In 16 of the past 17 seasons (and for 6 straight seasons running), at least one team has made the postseason after having a losing record the year before. In fact, both the D'Backs and Brewers did so last season, making for 33 teams in those 17 years that have accomplished the "losers to postseason" turnaround.
Having an All-Star rotation is not what gets you to the playoffs. Having a HEALTHY rotation is what gets you to the playoffs. Forget about whether Mauer, Morneau and Span are healthy (good luck ignoring that), it's all about having at least four of the Twins starters (Pavano, Liriano, Baker, Marquis and Blackburn) getting 30 starts. In the past four years, 11 teams have had four starters get 30 starts and 10 of those teams made the playoffs. Six of them ended up in the World Series. I've believed for a long time that the rotation is as important as (if not more important than) pretty much any other factor in getting things turned around. I just didn't know how right I was.
Here's a big one to remember… especially for those of us who are disappointed in the roster, as built by Terry Ryan during the offseason… contenders CAN be built during the season. The guys making up the 25 man roster at the beginning of the season matter less than the guys who END the season on the roster. Of the 24 players who saw action for the Cardinals in the World Series last year, five of them were not members of their organization on Opening Day.
See? Verducci came through for me! I'm not sure I really need more, but I have more anyway.
We've already discussed Jim Leyland's intention to hand other AL Central managers a gift by having Miguel Cabrera play 3B regularly, but now he also likes the idea of Brandon Inge playing 2B. Despite feeling like Inge has destroyed the Twins all by himself at times over the years, I like that idea, too. Though I suspect I like it for much different reasons than Leyland.
There were a few people who lamented the fact that the Indians were able to sign Jon Garland for next to nothing, supposedly further entrenching themselves as the second-favorite AL Central team among the "experts." Well, forget that. Garland's deal was canceled this week when he admitted he was not healthy enough to pitch. I'm still waiting to read all the stories about how it turned out to be OK that Terry Ryan didn't go out and sign Garland. I suspect the wait will be a long one.
But enough about other teams. Here's something tangible for a Twins fan like me to grasp on to concerning the Twins themselves: As position players begin their workouts, the entire "injury list" consists of Luke Hughes and his strained shoulder and Brian Dozier with a cut on his finger. Yes, I know we'll all hold our breath a bit until Justin Morneau demonstrates all is well with his head (and all those other body parts he had rebuilt over the past several months). But Gardy had so many guys sitting out practices and games all through Spring Training last year that I felt inclined to take my glove with me to the Ft. Myers complex while I was down there… you know, just in case the Twins manager needed an extra body.
The point is… as much as people like to say Spring Training isn't really important for most players, it really is. Players ideally show up in much better shape than they did in the old days, but there's "in shape" and then there's "in game shape." They are not necessarily the same thing. And from all appearances, the Twins are reporting much better prepared to get down to the serious business of preparing for the season this spring.
I still have to endure over four more weeks of Iowa winter before I get to head to Ft. Myers, but I'm determined to just enjoy following Spring Training through the eyes and ears of the writers and bloggers who are down there in the mean time. If that's not the kind of thing you're wanting to read about, I'm sorry for disappointing you… but not very. 🙂
– JC