It hasn't been easy to sit back and read others' reports from the Twins' Spring Training home of Ft. Myers while I patiently (or not so patiently, at times) waited for my turn to head south. That time has come. I leave Wednesday morning for Florida.
I've always felt the best time to go down to Spring Training is toward the middle of March, but that simply wasn't doable for me this year. Going down for the final week of games is not ideal, but it's still a week spent in Florida, instead of Iowa, and it's still baseball… and it will mean I'll be on hand as the final roster spots are being determined.
I fly to Ft. Myers Wednesday and head back home a week later on April 4. I should be able to see the Twins play up to five times and may try to catch a Tigers/Orioles game in Sarasota, as well. Here are the games I'd be hoping to see: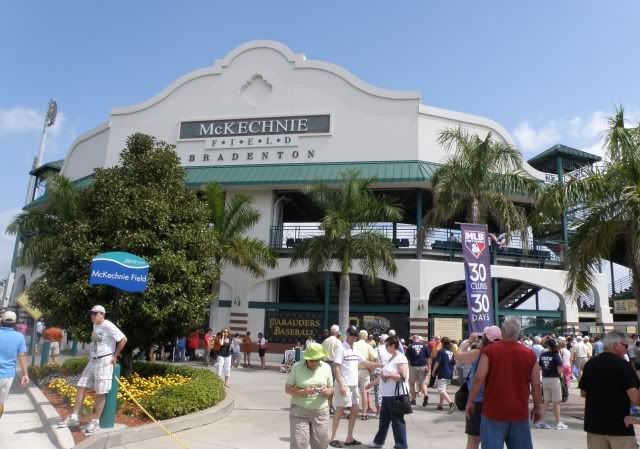 Thursday, March 29: I'm actually not going to stay in Ft. Myers the first two nights. Instead, I'm staying up near Sarasota. It will make for a short drive Thursday morning up to Bradenton. where the Twins are taking on the Pirates. I really do enjoy the environment at the ballpark in Bradenton. It's an old-fashioned neighborhood ballpark that just makes me feel like I've gone back in time about 50 years.
Friday March 30: The Twins have split squads playing on the 30th, one group hosting the Red Sox in Ft Myers and the other visiting the Blue Jays in Dunedin. But I'll have other chances to see the Twins play the Red Sox later. Since I'm staying up near Sarasota anyway, I'm thinking I'll stick around and watch at least a few innings of the Tigers and Orioles, then drive down to Ft. Myers after the game.
Saturday. March 31: I hope to check out the Twins minor league complex in the morning before watching the Twins and Pirates at Hammond Sadium in the afternoon.
Sunday April 1: The Twins are at the Red Sox and I'm really looking forward to seeing the new JetBlue Park, built for the Red Sox just about 15 minutes away from the Twins' complex. It's supposedly built to resemble a smaller version of Fenway Park, complete with their own Green Monster in left field.
Monday April 2: Yet another "road trip", and I'm not 100% sure I'll make this one. The Rays have a nice place up in Port Charlotte, with a boardwalk all the way around the outfield. It's a great place to just buy a cheap general admission ticket and then hang around out in the outfield. On the other hand, if I don't feel like making that drive, I may hang out at the Twins minor league complex in the morning. I could even catch the Nationals @ Red Sox game that afternoon without leaving Ft. Myers.
Tuesday April 3: The final day in Ft. Myers may start with another morning on the minor league complex. The Twins host the Rays in the afternoon. I've got tickets on the "drink rail" by the beer concession stand down the right field line for this game. I've always thought that looked like an interesting area to watch a game, but I've never had a chance to find out. This year I will. It will be the Twins' final Spring Training game against Major League competition (they play the Ft. Myers Miracle on Wednesday, April 4).
I'll fly home from Ft Myers the next day, Wednesday April 4.
Those are the plans. If you're planning on being in Ft. Myers the week I'll be there, drop me an email or leave a comment and maybe we'll find one another for a beer at some point.
If I pull all of this off, I think I may need a week of vacation to recover from my week of vacation. What I would really like to do is fly home by way of Baltimore and catch the Twins' season opener at Camden Yards! But there's no way I could pull that off… right?
However it works out, I'll certainly be posting reports and pictures here at Knuckleballs from time to time, while I'm there. You may even find a report or two from me over at Howard Sinker's A Fan's View from Section 219 blog at the Strib's website.
Or I may just blow off baseball altogether and spend the entire week on a beach drinking margaritas. Ya just never know.
– JC