Regular readers of our site are probably aware that I'm a Twins fan exiled in Iowa. While I spent 10 years of my youth growing up in Minnesota, I've lived almost all of my life since then in Iowa and I currently call Cedar Rapids "home." In fact, I've lived here in Cedar Rapids for pretty much the past 35 years.
This is Part 2 of my 2-part series focused on the Cedar Rapids Kernels (the Angels' Class A Midwest League affiliate). In yesterday's Part 1, I covered a bit of the local team's history and mentioned many of the future Major Leaguers I've watched on the field as they suited up for Cedar Rapids, as well as many others that called the old Veterans Stadium their summer home during the storied history of the organization.
In Part 2, we're focusing on the present and, more specifically, what goes on behind the scenes of a minor league organization.
Many of us think we may know something about how a Major League team is run, even if all we know is what we saw from Brad Pitt's portrayal of A's GM Billy Beane in the movie "Moneyball". But if any of us think running a minor league team is remotely similar, we couldn't be more wrong.
Cedar Rapids Kernels General Manager Doug Nelson recently agreed to answer some of my questions about his organization and I found his answers to be enlightening.
Jim Crikket/Knuckleballs: You probably don't realize it, Doug, but you've got what a lot of people (myself included) might consider a "dream job." You get to spend your day working at a ballpark! I'm sure it looks a lot different to you from the inside, so maybe you could start by telling us a little bit about what all the General Manager of a minor league baseball team does. How do you spend your "typical day"?
Doug Nelson: My typical game day starts at 7:30 am checking and returning messages and reviewing customer survey results and financial reports from the previous night's game. I meet with staff to discuss the results and to make sure we are ready for that night's game. The balance of the morning and early afternoon is spent meeting with sponsors, speaking at community events or planning non-baseball extra events at the stadium.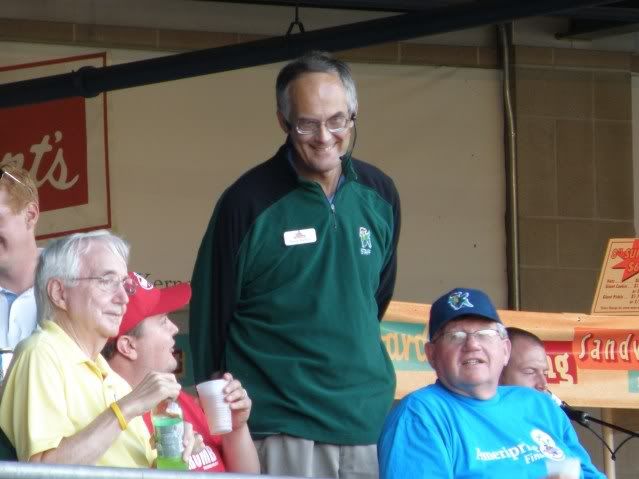 By mid-afternoon,  I switch into game mode. I check in with both teams' managers and the umpires to see if they need anything and to inform them of any special promotions going on during the game. Two hours before game time, we conduct an entertainment meeting to review the game's pregame activities and the inning break promotions.   
Once gates open,  I monitor the box office, souvenir store, concession stands and our ushers to insure everything is running smoothly. I spend a majority of the game thanking our sponsors and fans for their support and taking care of any issues. At the end of the game, I make sure our fans have safely left the ballpark, discuss any challenges that occurred during the game with the front office staff and by 11:00 to midnight I leave for home.
Knuckleballs: How does it differ when the Kernels are on the road?
Nelson: When the team is on the road, we are busy hosting non-Kernels events at the stadium. These events include: college and high school baseball games, concerts, MMA events, non-profit fundraiser walks and events, business meetings, catering events (weddings, family reunions, birthday parties, etc.) and corporate picnics. Each year we host over 100 non-Kernels events at the stadium. 
Knuckleballs: What about during the off-season or during spring training?
Nelson: During the off-season, the entire front office staff become sales reps. This is the time that we sell 90% of our sponsorships and ticket packages for the upcoming season.   We also spend a considerable amount of time planning promotions, daily specials and booking entertainment acts. We also operate the concessions at the Cedar Rapids Ice Arena and the Iowa Equestrian Center, which are the busiest during our off-season (from October through March).
Knuckleballs: Tell us a bit about yourself and your staff. What's your background and what do you see as the GM's primary role with the Kernels?
Nelson: I'm a CPA and have a BBA and MBA from the University of Iowa. My background is in accounting/finance and administration. Since the LA Angels make all of the baseball personnel decisions, my job is really about running an entertainment venue and concentrating my efforts on insuring our fans have a great experience while attending Kernels games.
Knuckleballs: How many people do you have working for you in the organization and what kind of responsibilities do they have?
Nelson: We  have 11 full time staff,  2 full time seasonal, 6 interns and over 300 part-time staff.
The full time and seasonal staff members include:
Doug Nelson, General Manager
Scott Wilson, Assistant General Manager
Andrea Murphy, Director of Tickets and Group Sales
Andrew Pantini, I/T and Communications Manager
Debra Maier, Director of Food and Beverage
Brandon Clemens, Entertainment and Community Relations Manager
Brett Heikkila, Head Chef
Jessica Fergesen, Director of Corporate Sales and Marketing
Morgan Hawk, Radio Play-By-Play Broadcaster and Sales
Charlie Patrick, Director of Finance
Marcia Moran, Receptionist
Seth Dohrn, Stadium Operations Manager (seasonal)
Jesse Roeder, Sports Turf Manager (seasonal)
Knuckleballs: How does one go about getting a job working for you and the Kernels? Do you look for particular backgrounds/degrees?
Nelson: For part-time positions, an employment application can be downloaded from our web site www.kernels.com  Applicants interested in full time and intern positions should send a resume and cover letter to the Kernels at doug@kernels.com.
I do not concentrate on any one type of background or degree. What is more important is that the individual has successfully completed an internship in baseball. The decision to work in this sport is as much a life style decision as a career decision. During the season, the staff will routinely work 70 – 80 hour weeks. Before an individual accepts a full time position, they and their families must accept this reality of our business.
Knuckleballs: Major League teams have a variety of revenue streams, with media deals becoming a bigger factor all the time. I assume a minor league team like the Kernels still must live and die with attendance and revenue from concessions that are also determined by the number of people who show up for games. Clearly, that means you need to be able to draw fans, regardless of the team's Win-Loss record. How do you make sure fans still want to come to the ballpark even when the team is struggling on the field?
Nelson: A majority of our revenues do come from our baseball operations. Although the team's record does impact attendance, weather, exciting promotions and providing excellent customer service have a greater impact on attendance. We do rely on other sources of income to supplement our baseball operations. This includes running the concession for the Cedar Rapids Ice Arena and the Iowa Equestrian Center as well as for the Kernels. As I mentioned before, we host over 100 non-Kernels events at the stadium each year, which helps generate additional income for the ball club.
Knuckleballs: This time of year, a MLB General Manager must be on his phone pretty much every minute of the day talking to other GMs about trades, etc. You don't need to do that, but do you interact much with the other Midwest League General Managers or those of other Angels affiliates?
Nelson: A minor league GM position is completely different from a MLB GM. Since I have no say regarding player movement, my time is spent managing the venue and game promotions. With that said, I talk to my fellow MWL GMs on a regular basis sharing ideas.   
Knuckleballs: The stadium in Cedar Rapids is now just a bit over a decade old. It seems to be holding up fairly well, but logic would tell us that it's probably due for some upgrades and maybe even some significant repairs. How does that process work? Is that the kind of thing you have to go to the local governmental body (city council, in Cedar Rapids' case) to get funding for or does the team need to use their own funds for that kind of thing?
Nelson: It's hard to believe, but this is the eleventh season for the ballpark. Overall the stadium is in great shape, however we are working on putting together a plan to fund capital repairs over the next ten years. The Kernels are the sole tenant of the stadium, the City owns the facility and the Veterans Commission owns the property the stadium is built on. As a three party partnership, we have created a long-term plan to insure the stadium is maintained and continues to meet our needs for many years to come.  
Knuckleballs: I believe you're finishing up your second year as the Kernels' GM. I'd be interested in knowing what you've found to be your favorite part of the job. Also, has anything really surprised you… maybe something you had NO idea you'd be dealing with when you took the job?
Nelson: My favorite part of the job is talking baseball with our fans and sponsors during the game. I always enjoy getting to know the players, coaches and umpires. The biggest surprise to me was how cooperative everyone is in minor league baseball. Minor League Baseball Clubs do not view themselves as competitors, but as colleagues.  As such, I can call any team up and get help on any topic.
Knuckleballs: Thank you, Doug. I appreciate you taking time out of that busy schedule to answer my questions!
I don't know about anyone else, but that "70-80 hours" thing pretty much put to rest the "dream job" idea I started this interview with! I can say, however, that Doug and his staff do a great job with the Kernels and their hard work is evident every time I'm at the ballpark!
– JC