This is what happens when the offseason rolls around and I really have no rooting interest among the four remaining MLB teams in the respective League Championship Series. I write 2000 words about something that will never, ever happen. At least that's what happened to me Sunday.
But it's not my fault. I'm blaming Eric and this Sunday morning Tweet:
@ERolfPleiss Nick Cafardo of the Boston Globe says Red Sox should target Mauer and/or Morneau this winter. #MNTwins http://www.bostonglobe.com/sports/2012/10/13/few-ideas-shore-red-sox-roster/npiJ3r49NrtnhnGInPoQ1L/story.html …
Having nothing better to do, I clicked the link to Cafardo's article, which goes through several possible moves the Red Sox could make to get their team back on track, starting with trading for Joe Mauer. Cafardo mentions that the Red Sox are reportedly a bit gunshy about taking on more expensive long-term contracts and wonders if the Twins would eat some of his salary. On the other hand, if you're the Twins, the only reason to deal Mauer would be to get out from under that contract. Putting those factors together, you quickly conclude that any such deal is beyond unlikely and bordering on unthinkable.
But this is the offseason and what's the offseason for if not to think about the unthinkable?
I'm not surprised to see a Boston writer bring up Mauer's name as a possible target for the Red Sox. In fact, given how old and fragile the Yankees line up is looking, I'd be shocked if Mauer's name didn't appear in more than one New York writer's "How to Fix the Yankees" column in coming weeks, as well.
But there are any number of logical reasons why Joe Mauer won't be going anywhere. Local boy. Popular with local fans. Historically great hitting catcher. Huge contract. No-trade clause. The list goes on.
But if you'll promise not to misinterpret this as an article suggesting that Mauer either should or will be traded, let's at least take a look at whether there are any circumstances under which Terry Ryan might actually consider a discussion.
Let's just say, for the sake of argument, that Boston GM Ben Cherington places a call to Ryan and asks the simple question, "Can we talk about Joe Mauer?"
Understand, it's unlikely that question would even be asked. Cherington is unlikely to be looking to take on $23 million per year long-term contracts. Still, as Cafardo points out, Mauer would fit nicely in to a line up that would accommodate a catcher/1B/DH like Mauer. He might also set some kind of modern-day record for doubles in Fenway Park. Bringing in a legitimate superstar would send a strong message to Red Sox Nation that the team has no intention of taking several years to rebuild their brand. And let's be honest, the Red Sox can afford to pay Mauer his money. They freed up a lot of payroll space with their late-season deals and if they decide to let David Ortiz walk away, they'll have even more money to play with.
So just maybe the Red Sox could see themselves calling about Mauer. But should the Twins even answer that call? That answer may not be as obvious as many fans think.
The Twins gave Mauer an excessive contract before the 2010 season because they could not afford, from a public relations standpoint, not to sign him at any price he and his agent demanded. Opening a new stadium built largely with public funding, with virtually every seat bought and paid for through season tickets (and a waiting list of people willing to replace any holder who drops out), there was no way the Twins could allow themselves to be seen as letting the local hero get away because they didn't want to pay for him. For the first time in franchise history, money really didn't matter.
But those days are nothing more than a misty memory today. The Twins are coming off of consecutive seasons of more than 95 losses and attendance is dropping. Put those factors together and it wouldn't be unrealistic to expect the Twins to slash payroll for the second straight offseason. Today, money does matter. Paying one player $23 million dollars when your total payroll is $110 million is one thing. Doing so when your total payroll is $85 million is something else, altogether.
Still, it's not like the Twins are destitute, either. With the money coming off the books after the past season, Terry Ryan has enough payroll to work with to make improvements to his team. There aren't a lot of top of the rotation pitchers out there, but there are plenty of more reasonably priced arms on the market and he even has a couple of trade chips he can afford to flip for pitching if he wants to go that direction. Also, despite what some folks might think, Joe Mauer is still really, really good at baseball and he's likely to stay good for a number of years. You don't just give that kind of talent away for a handful of magic beans (or in this case, for just a few million dollars of payroll space).
What this all means is that if, as Cafardo suggests, Cherington asks TR whether the Twins would eat any of Mauer's contract, the answer would be (or at least should be), "hell no!" But what if Boston agrees to take on that contract?
Conventional wisdom in these kinds of trades is that the team trading a big contract either gets high level prospects back by eating some salary OR gets marginal prospects back while dumping the entire contract. That's considered "fair return."
Yet the Red Sox themselves managed to not only unload more debt owed to less talented players on to the Dodgers a couple of months ago, but got legitimate talent back in return, as well. They should be congratulated for that. They should also be reminded of that when they call the Twins about Joe Mauer. "Fair" is a relative term. "Fair" depends on how badly you want what I have. If you don't want Mauer that badly, that's fine. If you do, then shut up about "fair" and let's get serious.
There are 3-4 players in the Red Sox system that the Twins would have to target as possible players they'd need in return. I'm not any kind of expert on minor league players, but fortunately I know how to read things written by people who are. I also have a pretty good idea what the Twins need (then again, who doesn't at this point?).
Any discussion with the Red Sox about Mauer would have to start with the Twins dumping his entire contract AND getting at least one of the following players in return:
Allen Webster: 22 year old right-handed starting pitcher that the Sox got from the Dodgers in the Crawford, et al, trade. He's got a mid-90s fastball and strikes out nearly a batter per inning. He pitched in AA this season and should be a AAA arm to start 2013. He was the #2 prospect in the Dodgers organization prior to the trade.
Matt Barnes: Righty starting pitcher was the Sox first round pick out of UConn in 2011 and covered both levels of A-ball in 2012. Barnes also has a mid-90s fastball and strikes out a ton of hitters. He's likely to be a year behind Webster in terms of being Major League ready, however.
Garin Cecchini: 21 year old 3B had a .305/.394/.433 split in high-A ball in 2012. He also stole 51 bases in 57 attempts. He hasn't shown a lot of power yet but hits a ton of doubles. With Will Middlebrooks perhaps entrenched at 3B for the Red Sox, Cecchini could be blocked unless he's converted to a 2B. The Twins could use help in either spot.
Speaking of third basemen being blocked by Middlebrooks, the Red Sox top prospect is reportedly Xander Bogaerts. Bogaerts is playing shortstop and the Sox hope he can stay there but scouts have doubts about whether he will be able to do that. They think he will more likely need to move to 3B or, perhaps even more likely, a corner OF spot or 1B. He was just 19 years old through the past season but has already shown both an ability to hit for average and power through Class A and even in a month of games at AA. It sounds like Boston has their own version of Miguel Sano, but it's unlikely they'd trade him for anyone. I wouldn't.
With Cecchini and Bogaerts knocking on the door, maybe Boston should consider trading Middlebrooks?
A step below these guys would be someone like Henry Owens, who is a 20 year old string bean of a pitcher with what appears to be a lot of potential. He's 6'7" and a bit over 200 pounds and only throws in the low 90s at this point. But he had 130 strikeouts in 101.2 innings at Class A in 2012 and that would certainly move him to the top of the Twins' starting pitching prospects list in a hurry.
If the Twins could score one of these top prospects from Boston in addition to shedding Mauer's contract, Ryan could then be free to have conversations with his peers about Major League level pitching without being as concerned about salary. Would a trade for someone like James Shields (who has a $9 mil club option with the Rays in 2013) then be something worth considering?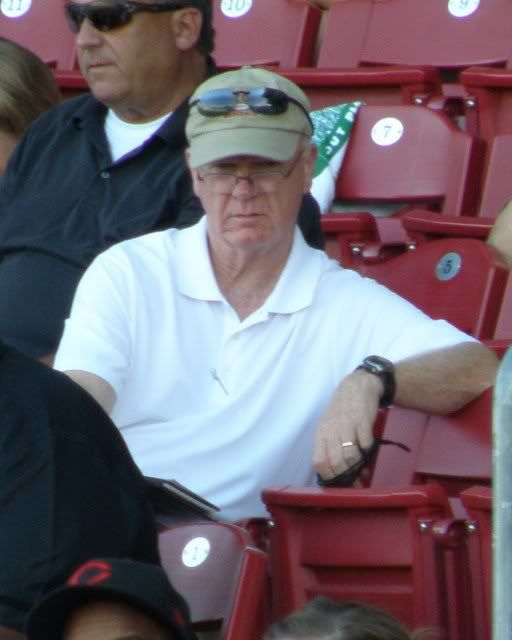 But even if Ryan and Cherington could come to some kind of agreement, what about that pesky no-trade clause in Mauer's contract? Would he even consider giving approval? Let's just say I no longer believe it's necessarily a certainty that he'd say "no" to such a deal.
On the one hand, Joe's a very private person and it would seem that moving to a large-market team that is as dysfunctional as the Red Sox has been would be counter-intuitive. On the other hand, he's a really big fish in a mid-market fishbowl and you wonder if he might not welcome the opportunity to be just one of many mega-stars in the New England sports scene. As Cafardo points out, Mauer also lives in Fort Myers in the offseason. Guess who, besides the Twins, has their Spring Training facility in Fort Myers? Yep… the Sawx.
Let's also be honest about something else. Despite the colossal belly flop of a season that the Red Sox had in 2012, if you were Mauer and were weighing the Sox against the Twins as to which organization was more likely to field a Championship level team over the remaining six years of your contract, there's no doubt who you would see as being more likely. Boston may not always make the right decisions, but their clear goal every year is to win it all. And every year, they make moves they believe will give themselves a better shot at doing so. You simply can not say that about the Twins.
Joe Mauer is not a naïve little boy any more. Family is important. But he already lives in Florida half the year and the life of a MLB ballplayer during the season doesn't leave much time for family anyway. With Boston training in Fort Myers, I think they might just be one team he would consider waiving his no-trade deal for.
So, IF the Red Sox call… IF Terry Ryan will listen… IF the Red Sox would take on the entire contract… and IF the Twins could also get a top prospect (or two?) in return… would Mauer agree to a trade?
Let's just say that if, like me, you are one who never wants to see Joe Mauer in anything but a Twins uniform, we should probably hope it doesn't come down to that last factor.
– JC
[EDIT: Changes have been made above to correct original errors regarding the timing of Mauer's contract.]