I think I saw something in Bradenton Monday that I haven't seen at any of the other Spring Training games I've watched over the past week. There were, in fact, a few clouds in the sky. I had almost forgotten what they looked like, though I suspect I'm going to be reminded pretty dramatically in a few hours, when I get back to Iowa.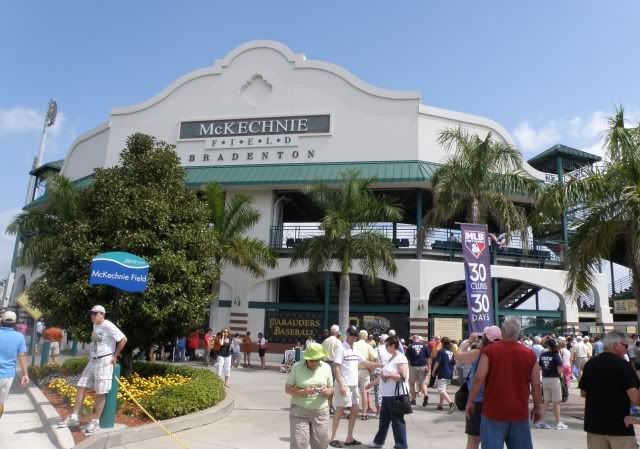 I also hadn't seen Bert Blyleven yet down here until today, though I did see Dick Bremer behind the batting cage last week exchanging a man-hug with Hall of Famer (and Bremer's former broadcast partner) Harmon Killebrew. Not only did Dick and Bert broadcast today's game with the Pirates to the folks back home, but Bert also threw out the first pitch. I thought that was kind of cool, given that he did pitch for the Pirates and they took this opportunity to recognize Blyleven's recent election to the Baseball Hall of Fame.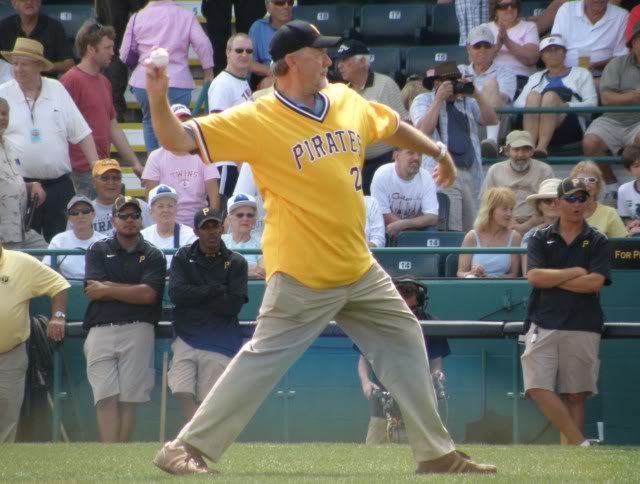 This was my second opportunity to see Brian Duensing start a game on the mound and he looked sharper today. I know there's a lot of healthy debate around Twinsville about whether Duensing should start the season in the rotation or the bullpen, but I've felt strongly all along that he should be in the rotation and I've seen nothing this week to change my mind. It allows Ron Gardenhire to go Righty-Lefty-Righty-Lefty-Righty with the rotation and assures that teams see a variety of looks during a three-game series.
Denard Span, Joe Mauer and Delmon Young were the only starting position players to make the 90 minute bus ride up to Bradenton for the game, but they gave the sizable contingent of Twins fans in the crowd plenty to cheer about. Span had a double in four ABs, while Mauer and Young each had two hits to lead the Twins 4-1 win over the Pirates.
The Bucs' only run was unearned, which means that, once again, the whole parade of Twins pitchers shut down an opponent. Today, in addition to Duensing, that included Glen Perkins, Matt Capps, Carlos Gutierrez and Chuck James. The relief appearances were clean, though not dominating. Perkins had a couple of balls hit hard off of him, including a line drive to first base that became a double play ball. Gutierrez was getting ground balls, while James got all three outs on fly balls.
While the Twins travel to face the Marlins tomorrow, I'll be heading home to Cedar Rapids. I don't leave until the afternoon, though, so I may hang out for a while in the morning at the Twins practice facility and maybe even watch some minor league games. I wouldn't be surprised to see some of the Twins playing in those games, while few of the regulars make the long drive across the state to Jupiter FL where the Marlins train.
I've had a lot of opportunities to watch a lot of baseball this week and I've drawn a few conclusions concerning what I think Gardy and the Twins will be doing about those few remaining roster spots that are still up in the air… and about what I think they SHOULD do (I wish they were the same thing, but they're not). In any event, I'll think a bit more about that stuff and throw a post up in the next couple of days with my thoughts.
It's been a fun trip… as always. The weather has been terrific and while I'd love to hang around here and watch more baseball, it will also feel good to get home again (at least right up until the time I have to show up for work Wednesday morning).
With that, I'll leave you with a few more pictures from my day in Bradenton.
– JC