So, I missed yesterday's game because I went to the MN Swarm game with the SO and his entire family as part of his birthday celebrations…  I have to give him a lot of credit because when we spotted TC Bear was in attendance, it was HIS idea to have us wait in the hallway for an opportunity to grab a picture since he knows how excited I am for baseball to start!!!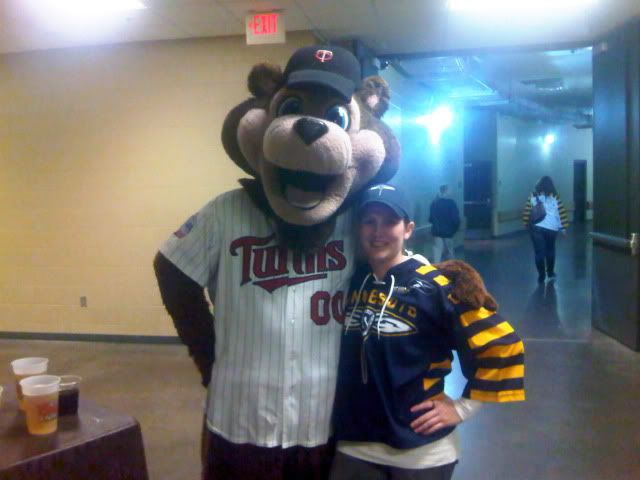 And Beloit is teasing us poor Minnesotans because they put in their homeplate today:
But back to the baseball game today!  Yes, it's another Monday Lunch broadcast on FSN.. I really don't get it.  Even the Red Sox announcers on Saturday night were commenting on the lack of MN broadcasts for important/watchable games.  I really wish one of the insiders somewhere would find out what's going on with the schedules and tell us why it's been so … inscrutable..  during this year's spring training.
| | | |
| --- | --- | --- |
| Pittsburgh | @ | Minnesota |
| Tabata, LF |   | Span, CF |
| Walker, N, 2B |   | Nishioka, 2B |
| McCutchen, A, CF |   | Mauer, C |
| Doumit, DH |   | Morneau, 1B |
| Pearce, 1B |   | Kubel, DH |
| Diaz, M, RF |   | Young, D, LF |
| Cedeno, SS |   | Cuddyer, RF |
| Rodriguez, Jo, 3B |   | Valencia, 3B |
| Jaramillo, J, C |   | Casilla, A, SS |
|   Karstens, P |   |   Liriano, P |
A) it's GREAT that we got the win!!  Especially in the 9th inning after being down the whole game. 
B) it was fun that it was the young guys that won't be with us at the start of the season that got to have the glory. (This was Danny Lehmann's SECOND walk-off hit in the past two weeks!)
C) Liriano had a great start!  He needed to go 6 innings like this for me to feel a little bit better.  He knows what to do to extend his starts deep into the game and I am glad to see him doing it. 
All in all, it was a great day for baseball.