The Rochester Red Wings must cringe every time the phone rings in their office this season. Almost every player on their roster who's shown any ability to play the game of baseball this season has been plucked from their clubhouse and given a ticket to Minneapolis (with Kyle Gibson being one obvious exception).
As difficult as it has been for Ron Gardenhire to keep 25 healthy bodies in the Twins clubhouse this season, his job may be getting even tougher this week. The Twins currently have eight players on the Disabled List. What could be worse than that? How about having eight players all ready to come OFF the Disabled List at one time?
Now, if the Twins were still playing like a bad American Legion team, the way they were throughout April and a good chunk of May, this would be no problem. You celebrate the return of all the "real" Twins and happily send Red Wings manager Tom Nieto back the players you've borrowed from him. But now, just as virtually every player on your DL is due back in uniform, you've got a team of young players who have been winning a lot of games.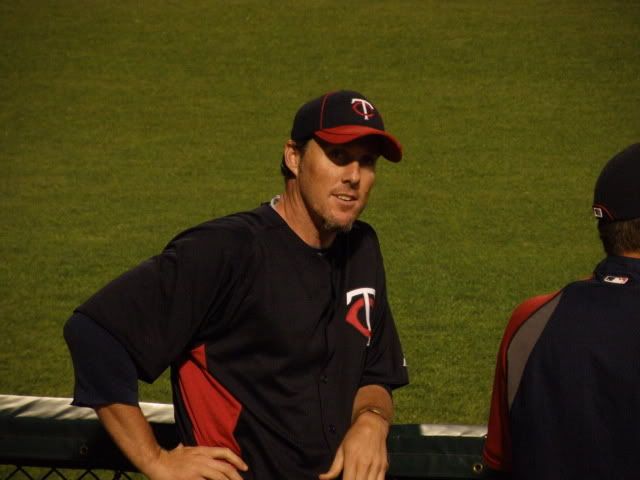 Kevin Slowey is just starting to throw, so his return isn't as imminent as the others, but Glen Perkins and Joe Nathan are going to be ready to return to the bullpen in the next week or two. The current bullpen is consistently shutting down opponents (finally)… so who loses their job when Perkins and Nathan return? How confident are you that those two guys will immediately be as effective as the pitchers they replace?
As tough as those choices may be, things only get tougher when you ponder the decisions coming up with regard to the position players. Jason Kubel, Jim Thome, Joe Mauer, Denard Span, and Tsuyoshi Nishioka are all scheduled to come off the DL at roughly the same time.
The decision concerning which catcher departs to make room for Mauer will be tough enough. Drew Butera has been with the team for most of the past two seasons, but Rene Rivera is reportedly out of options [UPDATE 6/15: Latest information is that Rivera is NOT out of options, which makes the rest of this paragraph moot. Butera and Rivera are therefore essentially on even footing], while Butera still has options remaining. That means the team would have to risk sending Rivera through waivers if they want to keep Butera. That said, the Twins will need to clear a 40-man roster spot for Mauer, so they may be willing to take that risk with Rivera. But you have to wonder if the Twins want to face the possibility of Steve Holm being the fallback option if Joe Mauer's return is short-lived.
As tough as that decision may be, it's nothing compared to how Gardy and GM Bill Smith will go about finding room for the others. Seth Stohs detailed the performances of the current position players over the course of the past 10 games over at SethSpeaks.net and it would be tough for me to find one or two non-catchers that I'd be anxious to pull out of the current line up, never mind more.
I'd love to get Span, Kubel and Thome back. But do you really want to see Ben Revere benched or, even worse, sent back to Rochester? I don't. During the offseason, I wrote that I wanted to see more speed in the Twins outfield and now that they have it, I don't want to give it up.
The Twins made a three year commitment to Nishioka and it's very possible that he'll end up being worth every nickel of the money they've sunk in to bringing him over from Japan. But we haven't seen enough of him to know that for sure. What we do know is that Alexi Casilla, Matt Tolbert and Luke Hughes have all been batting over .300 (with three doubles each) during the recent stretch of success. How comfortable are you with the prospect of plugging in the unproven Nishioka in place of one of those guys?
We've poked a bit of fun at the line ups that Gardy's been turning in, with references to them being "Red Wings" line ups and comments about how they resemble line ups you'd expect to see at spring training road games. But they're also line ups that have been WINNING and the Twins still have a lot of winning to do if they're going to dig themselves out of the hole they're in.
So who's time with the Twins is drawing to a close?
Brian Dinkelman's cup of coffee with the big club is probably about over. In fact, don't be too surprised if he is passed through waivers to make room on the 40-man roster for Nishioka. Rene Tosoni is also a logical candidate to return to Rochester.
So, if we assume Slowey will be headed to Rochester to join their rotation and that Dinkelman, Tosoni and one of the catchers will be departing, that leaves us just three more players to drop to make room for those returning. Two will be pitchers… but which pitchers? Might the Twins be ready to insert Anthony Swarzak in to the rotation and, if so, would Brian Duensing be likely to head down to Rochester so he continues to get regular starts? Of the rest, you could make an argument that Jose Mijares is the most deserving of a free trip to Rochester.
And what about the remaining position player that we must bid farewell to? I don't see Revere, Hughes, or Tolbert going anywhere. Is it time to give Danny Valencia a wake-up call? Or is it possible that Jason Repko's run with the Twins might be nearing an end?
These will all be critical… and difficult… decisions. Two players are going to have to pass through waivers and could be claimed by other organizations, so the Twins must choose wisely. The current roster has been making an impressive run and in the process, they've closed the gap between themselves and the division leaders. Shaking up the roster at this point is a risk, even given the talent level that's returning.
As early as a week from now, we may be seeing a line up that includes Joe Mauer, Justin Morneau, Jim Thome, Jason Kubel, Tsuyoshi Nishioka, and Denard Span. It will certainly look a lot more like the line up that we expected to see when the Twins broke camp in Ft. Myers. Whether that's a good thing or not remains to be seen.
– JC