*yawn* Another west coast game… I swear I'm actually a nightowl but there's something about baseball at this time of the night back home that just puts me right to sleep every time. Especially the way so many of these games have been going lately. My only request for the team tonight is the Twins give me a reason to stay awake for the end of the game.. is that too much to ask?? I would REALLY love to award our '91 World Series DVDs prize to someone tonight. That would be good enough.
Also – Thome is sitting tonight because he came to work today with a stiff neck.. I don't know what that means for his availability off the bench.
| | | |
| --- | --- | --- |
| Minnesota | @ | LA Angels |
| Span, CF | | Izturis, M, 2B |
| Revere, LF | | Aybar, SS |
| Mauer, C | | Hunter, To, RF |
| Cuddyer, 1B | | Abreu, DH |
| Kubel, RF | | Wells, V, LF |
| Valencia, 3B | | Callaspo, 3B |
| Young, D, DH | | Trumbo, 1B |
| Nishioka, SS | | Bourjos, CF |
| Tolbert, 2B | | Mathis, C |
|   Baker, S, P | |   Pineiro, P |
Five home runs? In one game? By the Twins?
Is that allowed?
It certainly was in this game. In fact Jason Kubel came just a few feet from being the third Twins player to hit two HRs in this game. Instead, he had to "settle" for two doubles to go with his one HR. Scott Baker got off to a good start, but he hit a wall in the 3rd inning (or maybe the wall hit him?). Enter Anthony Swarzak, who followed with five innings of one-hit shutout baseball.
Delmon Young ripped two home runs, which certainly makes him worthy of BOD consideration, along with Swarzak and Kubel. But matching him home run for home run was Michael Cuddyer and one of his home runs was a tie-breaking grand slam HR, which gave Swarzak and the Twins a mid-game boost and that earned Cuddy the majority of the GameChat's BOD votes, with Swarzak and Young also garnering enough support to earn them baked goods of their choice.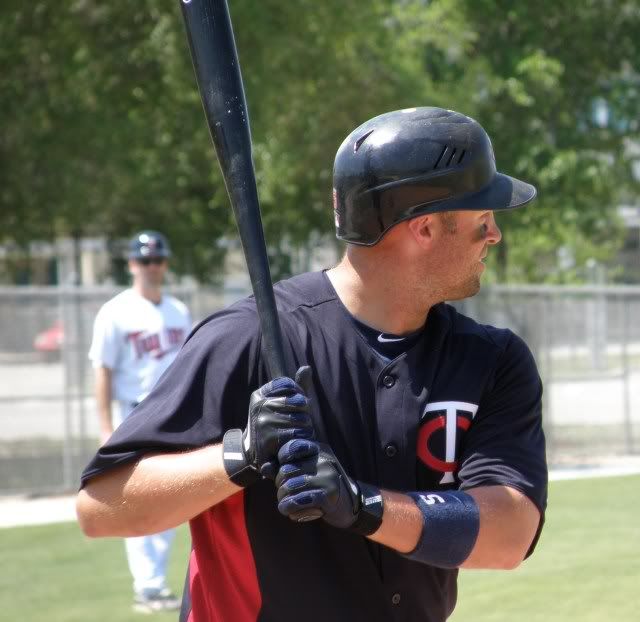 .