Now that the weekend of football is over, my mind is drifting back toward baseball again and, specifically, toward ways the Twins can improve themselves for next season.
I realize that the Twins pretty much flat out ignore any ideas that don't come from within their own ranks, but why should that stop any of us from writing about what we think the Twins should do before 2012 rolls around? It sure as hell won't stop me, that's for sure. I've been getting ignored for over half a century and by much smarter people than those folks in their Target Field offices, so there.
It's no surprise that we're seeing more and more being written, both in blogs and the more traditional media, about how inadequately some of the Twins' young players appear to be prepared when they find their ways in to a Big League uniform. Given how long it takes the Twins to typically promote a player through their minor league ranks, it is surprising how flawed some of the call-ups are in certain fundamental aspects of the game of baseball.
I do believe some of the mistakes being made can be written off as rookies just trying to do too much to impress people during their first trips to the Big Leagues, but even where there are flaws, those flaws may not be fatal. I'm a big believer that hard work can overcome even years of doing things the wrong way… if the player is willing to work hard.
That said, I believe that one of best truisms in coaching is, "practice doesn't make perfect, PERFECT practice makes perfect."
It's not enough to work hard. It's not enough to field 100 ground balls a day and make 100 throws to 1B. It's not enough to take an extra 50 cuts in early batting practice. It's not enough get in extra mound work. If all you do is repeat poor form, you accomplish nothing but reinforcing that poor form until it becomes ingrained.
First, you have to learn the right way to do things, THEN you practice those things over and over again. Learning those right things requires someone to teach them and if the most recent batches of young Twins to arrive at Target Field aren't doing things right, it's certainly not because they've been rushed through the minor league system without having time to be taught.
Yes, the players have to be open to instruction. You can't influence a closed mind. However, with few exceptions, the personalities of most of these players coming up don't seem to indicate that they aren't open to learning.
The recent dismissal by the Twins of their AAA manager and hitting coach, Tom Nieto and Floyd Rayford, could be indications that the Twins see the need to make changes in their instructional staff. On the other hand, it could simply reflect an acknowledgment that after two consecutive 90+ loss seasons in Rochester, the organization couldn't afford the PR hit they'd take by sending the same failed leadership to the Red Wings for another season… especially given that 2012 is the final year of the Twins' current affiliate agreement with Rochester. Let's hope that's not all it is.
For a very good take on the need to move on from Nieto, from Rochester's perspective, go read through this blog post by Rochester Democrat-Chronicle beat reporter Jim Mandelaro. It's well worth your time.
But enough about the problem, how about those suggestions?
When I make my annual trip to Spring Training in March, I enjoy spending most mornings over on the minor league complex watching the young players work out. Trust me when I say that there's not a lot of "standing around" going on out on those minor league fields. They take ground balls. They take fly balls. They work on bunts. They work on fielding bunts. They work on relays. They work on baserunning. Then they do it all over and over again. There's no shortage of work going on.
But let's face it, when you've got 30 guys on each field, there isn't a lot of opportunity for individual instruction. Still, it does happen.
I've seen Tom Kelly take aside a high ranking pitching prospect who was having trouble just fielding a bunt and throwing the ball to 3rd base. I've seen former GM Terry Ryan take a young infielder aside just to point out that, in the Twins organization, you tuck your jersey in your pants. Not big stuff, I grant you, and let's be honest, Kelly and Ryan are not going to be spending summers riding buses up and down the east coast with 21 year old ballplayers.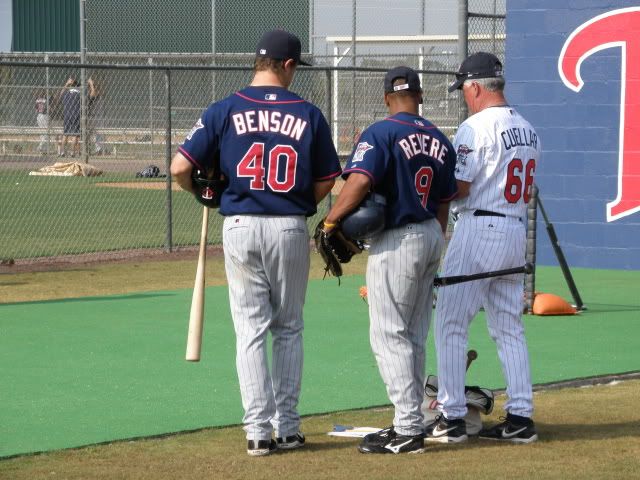 There are, however, other guys I've watched in Ft. Myers who have impressed me with the time and attention they give to individual or small group instruction. One has been Bobby Cuellar, the AAA pitching coach. I enjoy watching him work with pitchers and it certainly appears that, when he talks, they listen. While I realize it may border on sacrilege to suggest, I'd like to see Cuellar become the Twins' pitching coach. I've felt for a long time that they need at least one Latino coach on the Twins' staff. Let Rick Anderson bounce around on minor league buses for a while. Anyway, I was glad to see Cuellar was not let go along with the rest of the Red Wings' staff.
Paul Molitor is another guy who impresses during Spring Training. He works with young hitters. He works with infielders. He's teaching constantly and he certainly has the Hall of Fame credentials to get a young player's attention when he talks. Unfortunately, I don't believe he's a full-time member of the Twins' coaching staff. I've heard that could be by his own choice and, if so, that's fine. He has certainly earned the right spend his summers with his family doing whatever he feels like doing. But if he's willing, the Twins really should find him a full-time job at either the minor league or Major League level. I know a lot of people who would like to see Molitor eventually become Ron Gardenhire's successor with the Twins. I'm one of those people.
Another coach I enjoy watching is Jake Mauer. Jake may not have gotten his younger brother's talent, but just from watching him, it appears he relates well to the young ballplayers. He's been coaching in the Twins organization since 2006 and has spent the past couple of seasons managing the Ft. Myers Miracle, the Twins' high-A affiliate.
Maybe his ability to work with younger players means that Mauer is best utilized right where he is, in the lower levels of the organization, but I'd like to see him move up to AA and work with the Twins' more advanced prospects… guys who are considerably closer to needing to be ready to contribute to the Twins in Minnesota.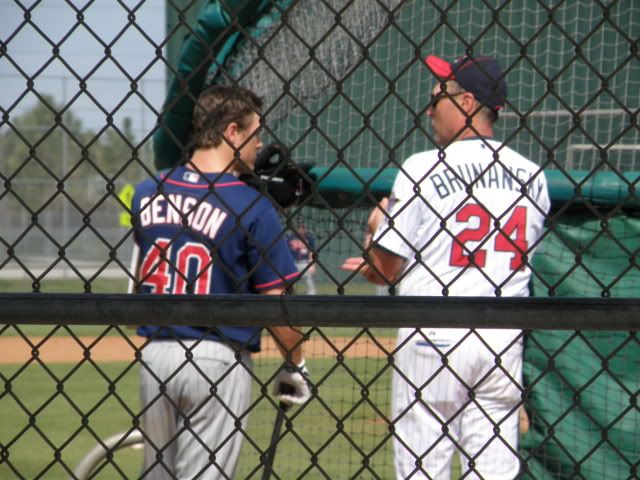 Finally, there's another guy in the organization that impressed me as I watched him in Ft. Myers last March. Tom Brunansky is another former player who, like Molitor, is out there doing a lot more than posing for pictures in his old Twins uniform. He joined the Twins organization just over a year ago, finishing 2010 as a hitting instructor for their Gulf Coast Rookie League team in Ft. Myers. This season, he's been the hitting coach for AA New Britain. (Since I'm in a linking mood, check this little story out about Brunansky's trip to Cooperstown with some of the Rock Cats.)
I realize that Bruno hasn't been working his way up the ranks of the organization's coaching/managing ladder the way other guys have (he was coaching HS baseball in California from 2004 through 2010), but do me a favor… go read Mandelaro's article again and then tell me if you could see the issues Mandelaro raised with regards to Nieto being even a remote possibility if Brunansky was managing in Rochester. There's also most likely nobody in the organization more qualified to teach the "Twins Way" than Brunansky.
I won't pretend to think that, because I've watched a few days of minor league Spring Training workouts, I know who the Twins should and shouldn't fire, retain or promote in their organization. I also don't want to insinuate that these are the only people who give individual attention to young players in Spring Training. I know better.
I simply mean to point out that the Twins do have guys who should know what they're talking about and who appear to relate well with young players and I hope that the Nieto/Rayford firings are not an indication that they're going to clean house just for the sake of cleaning house.
Changes should be made, but I'd like to see more of the guys I've mentioned here and, if possible, more guys like them brought in to the organization.
– JC