I've been much better this season about limiting my posts to 1200-1300 words. This one, however, is a return to the days of much longer tomes. I apologize in advance to those of you with shorter attention spans. – JC
Some who follow the Twins minor league affiliates were at least somewhat surprised this past week when the Twins announced they had renewed their Player Development Contract (PDC) with AA affiliate New Britain CT. The Rock Cats will remain the home of the Twins' AA players for at least the next two years. PDCs are entered in to for an even number of years, so two years is the shortest contract the two organizations could have agreed upon. I guess you could say the extension isn't exactly indicative of the two sides making a mutual long term commitment.
The Rock Cats have had a pretty good year, at least compared to their parent organization. Through Saturday, they had a 56-44 record that the Twins themselves should be jealous of and were just 2.5 games behind the Eastern Division leading Trenton Thunder. They also had a 4.5 game lead over the third place Reading Phillies. That's important to the Rock Cats because the top two teams in each division qualify for the Eastern League playoffs.
Of course, from the perspective of the parent organization (and most of their fans), winning games and making minor league playoffs is of secondary concern. The primary purpose of the minor leagues is to develop talent that can eventually be of use at the Major League level. But if you don't think winning games plays a role when it comes to renewing PDCs, you clearly do not live in a community with a minor league ballclub. To the owners and management of those minor league teams, who rely almost exclusively on putting butts in the seats in order to make financial ends meet, winning does matter.
To that end, fielding a competitive team in a PDC renewal year is certainly not a bad idea if you want to maintain your relationship with a community. I don't think it's at all a coincidence that New Britain has gone from perhaps the most likely Twins affiliate to explore other options to being the first affiliate to sign on for another two-year term within the time it took to put a team on the field capable of being 12 games over .500 as they near the final month of their season.
But the Cats are not the only Twins affiliate with an expiring PDC after this season. The Twins' agreements are also up with their AAA affiliate in Rochester NY, their Class A-Advanced affiliate in Ft. Myers FL and their Class A affiliate in Beloit WI. It's pretty safe to say that the Ft. Myers Miracle will be remaining affiliated with the Twins, since they're a "complex affiliate" that calls the Twins' Spring Training complex their home, but the other two situations are not nearly as locked down.
The Rochester situation is interesting. The Red Wings and their fans take a lot of pride in their team and they don't suffer poor results well. And suffer they have, lately. Both in 2010 and 2011, the Wings were downright awful. They were so bad in 2010 that a vocal part of their fan base were upset that the decision makers signed on for another two years with the Twins. Red Wings management were rewarded for their loyalty with a second consecutive 90+ loss season in 2011. Given the lower number of games played in the minor leagues, that's pretty comparable to two consecutive 99+ loss seasons at the Big League level. (Sound familiar to anyone?)
The Red Wings got off to another poor start in 2012, so you can imagine how local sentiment for dumping the Twins has grown. A recent hot streak had the Red Wings up to a .500 record at 50-50 through Saturday, but they were still in fifth place, 5.5 games behind the North Division leading Scranton/Wilkes-Barre Yankees (who, coincidentally, have been playing many of their "home" games at Rochester's Frontier Field while their own home stadium undergoes major renovations this summer). They were also five games out of the International League's Wild Card spot. That may not seem like a lot, but that still left five teams they would have to pass to make the IL playoffs as the Wild Card.
Nonetheless, the Twins have made an effort to field a more competitive team in Rochester this year and they brought in a new manager, Gene Glynn, who's more popular with the locals. Is it enough to keep the Twins and Red Wings tied together for at least two more years? Maybe. There simply is not usually a lot of movement of affiliations at the AAA level and both parties have to be a little careful about rushing to end the arrangement. Either (or both) could end up finding themselves in even worse situations.
Beloit is a bit of a different situation. Beloit would do cartwheels to retain their PDC affiliation with the Twins. The Snappers are not off to a very good start in the second half of their Midwest League season, but they finished second in the Western Division in the first half, which assures them a spot in the MWL playoffs. (MWL seasons are divided in to two halves, with the division winners and runners-up in each half qualifying for the playoffs.) But on-field success isn't the main reason Beloit's anxious to re-up with the Twins.
Beloit, while being the home of MWL executive offices, has what are widely considered the worst facilities in the league. Their stadium has been in need of replacement for years and the organization has simply not been able to get public support to do what's necessary. Two years ago, plans were pitched for a new facility but, like prior attempts, they were never approved. Some reports now indicate the club may have better luck with a proposal to renovate. Their stadium issues would likely make attracting a new MLB affiliate challenging, so say the least.
But would poor facilities be enough motivation for the Twins to walk away from their eight-year relationship with Beloit? In a word, yes. In fact, the lack of progress on an appropriate stadium were reported to be the reason the Milwaukee Brewers opted to move their MWL affiliation out of Beloit after the 2004 season. Major League teams do, in fact, care about the facilities that their young prospects call home. They want to make sure the fields are maintained in a first rate manner and that clubhouses and training facilities are at least adequate, if not well above that standard.
Unlike the situation with AAA organizations, it's far more common for Class A organizations to switch affiliations. In fact, reports I've seen indicate 12 of the 16 Midwest League teams have expiring PDCs after the 2012 season and Twins senior director of minor league operations Jim Rantz told the Pioneer Press that he expects 8-9 of those teams to actually make changes. I'll be surprised if the Twins aren't one of those teams looking for another MWL home.
I've made no secret of my wish that the Twins hook up with my local team, the Cedar Rapids Kernels, but there's no assurance the Kernels will enter the pool of teams open to exploring a new PDC parner. The Kernels have been an Angels affiliate for 20 years and although it's not unusual for AA and AAA relationships to run that long and even much longer, the Kernels and Angels have the longest running relationship in the Midwest League. While the Kernels haven't had a bunch of Championship titles to show for the relationship, the Angels have been pretty good about sending most of their top prospects through Cedar Rapids for at least half a season.
Still, according to the Cedar Rapids Gazette, there's a growing sentiment among the fan base in Cedar Rapids (and, rumor has it, among some of the club's governing Board of Directors, which serves as essentially the "owners" of the Kernels) that it's time for a change. There's a sense that it would be nice to have an affiliation with one of the midwestern MLB ballclubs, so local fans could better follow the prospects that come through town all the way to the Big Club. Of course, the fact that the Kernels finished 7th out of the eight-team Western Division of the MWL in the first half of the season and have dropped in to the cellar in the second half might have something to do with the fan sentiment, too.
It would make sense from the Twins' perspective, as well, in the following ways:
Cedar Rapids is the closest MWL community to the Twins Cities. No, players do not routinely get called up from Class A to the Twins, so that's not an issue. But it's not at all unusual for MWL teams to be used for rehab assignments by their nearby Big League affiliates and front office types do routinely make trips. (In fact, there have been almost annual Terry Ryan sightings in Cedar Rapids, both during his time as a "senior adviser" and as Twins GM.) Though CR isn't THAT much closer to Target Field than Beloit, if you've ever had cause to try to fly between those locations, there's a significant difference.
Veterans Memorial Stadium is just over a decade old. It could no doubt use some remodeling, but it's a far cry better than what Twins prospects currently call home in Beloit. Not only that, but Perfect Game (the national amateur scouting service) training facilities are about a block away from the stadium and my understanding is that Kernels players have access to PG's facilities, perhaps as part of the naming rights deal the organizations have (the formal name of the ballpark is "Perfect Game Field at Veterans Memorial Stadium").
All of Iowa is considered part of the Twins home market, yet FSN isn't carried by the primary cable providers in Eastern Iowa. Nor is there even a radio station in the area that carries Twins broadcasts. The reason is that, while there's a solid, loyal base of Twins fans in the area, that base is not as large as it could be… or as it should be. A Twins affiliation with the Kernels would almost certainly change this situation as Kernels fans become Twins fans. The Twins would, over time, see far more group sales from this area as fans travel up to see former Kernels at Target Field.
It makes sense for both organizations. So why don't the Twins and Kernels just sit down and come to an agreement? Well, as is often the case when you're talking about professional baseball rules, it's really just not quite that easy.
Under the rules of MLB and Minor League Baseball (MiLB), existing affiliated teams can negotiate extensions any time they're mutually inclined to do so, just as the Twins and Rock Cats did recently. But if either party to an existing PDC wants to explore other options, they must wait until a specified window of time to declare their desire to explore other options. New PDC agreements can then be negotiated and entered in to beginning September 16 (any private or public statements about possible interest in another affiliate prior to that date earns hefty fines for the clubs deemed guilty of such "tampering"). Clubs have just two weeks to find a new dance partner, however, because agreements need to be executed by September 30. After that date, any MLB or MiLB clubs without an agreement will be matched up and assigned an affiliation by agreement between the MLB Commisioner and the MiLB President. (Honestly, how many of you would want Bud Selig to be deciding who your affiliate would be?)
Nobody wants that to happen, but it's not all that rare, either. While the Twins would likely have no problem finding a soft landing spot for their Class A affiliation, the AAA situation could be more dicey. Then again, the relatively small number of MLB teams likely to look for a new AAA partner could make the Red Wings' management group think twice about whether they can really improve their situation or whether they might end up with an even worse result than sticking with the Twins for another couple of years. After all, in theory, some of those Rock Cats that are having a successful season in New Britain this year should find their way to Rochester next season, right?
So the question is whether the good folks who run the Red Wings are willing to take that chance.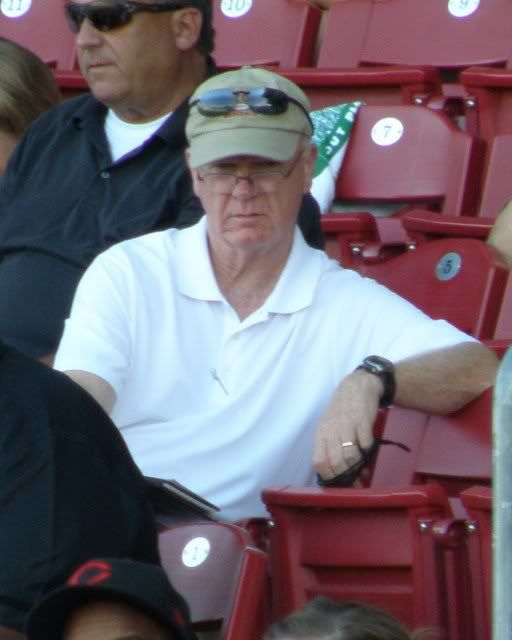 In the end, I'll guess that Rochester and the Twins extend their agreement for another two years. I'll also go with my heart, rather than my head, and predict a Twins move to Cedar Rapids for their Class A affiliation. I readily admit that there's at best a 50-50 chance that the Kernels will end their relationship with the Angles (Angels GM Jerry Dipoto was in CR last week to make a pitch to continue their affiliation) and it's no sure-thing that the Twins would step in even if the Kernels and Angels divorce. That makes it far less than 50-50 that my wishes come true, but right now I'll take those odds.
– JC