Episode 37 of the Twins baseball podcast,  Talk To Contact (@TalkToContact), is now available for download via iTunes or by clicking here.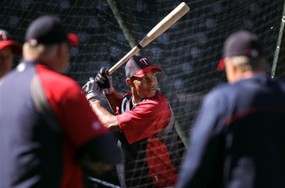 On Episode 37, Cody and Eric are joined by Baseball Prospectus' Jason Parks to talk about the Twins Minor League system.  Jason Parks has plenty to say about Byron Buxton and Miguel Sano, as well as some of the pitching prospects.
Before Jason Parks comes on to the show, Cody and Eric go through the Twins news, including the pitching performances of Kevin Correia, Mike Pelfrey and Scott Diamond; Joe Mauer's Fenway expertise, and the explosion that is Oswaldo Arcia.
To close out the show the guys name a Listener of the Week, go Down on the Pond with Michael Tonkin, and regardless of what they're drinking (juice?!) they take a quick tour of the biggest news stories around the league.
80 minutes of fun!
You can follow Cody on Twitter (@NoDakTwinsFan) or read his writing at NoDakTwinsFan.  You can follow Paul on Twitter (@BaseballPirate) or read his writing at  Puckett's Pond.  And of course, you can find me on Twitter (@ERolfPleiss) and read my writing here at Knuckleballs!
– ERolfPleiss