A LOT happened in baseball this weekend – some very cool things and some not cool things.  In former Twins notes, Carlos Silva is SERIOUSLY kicking ass this season so far – he's 7-0 and honestly pitching well.  I'm happy for him – especially since it's pretty unexpected.  Roy Halladay threw MLB's 20th Perfect Game and the second one this month.  And Kendry Morales hit a walk-off grand slam to lift the Angels over the Mariners – and then failed to walk off.  Why?  Because he BROKE HIS LEG in the home plate celebration!  I think a LOT of teams will be a bit more restrained in such celebrations in the future but I sure do feel horrible for Morales and the Angels.  Whether or not he's able to get back before the end of the season is still up in the air.  His surgery to make repairs to the ankle has been put off because he still has too much swelling.
I'm listening to the thunder softly rumble outside and the rain come down in dribbles, so I'm not sure what the fate of the game will be.  Too bad we're on ESPN schedule and didn't play this afternoon when we usually would have.
| | | |
| --- | --- | --- |
| Texas | @ | Minnesota |
| Andrus, El, SS |   | Span, CF |
| Young, M, 3B |   | Hudson, O, 2B |
| Kinsler, 2B |   | Mauer, C |
| Guerrero, DH |   | Morneau, 1B |
| Hamilton, LF |   | Cuddyer, RF |
| Murphy, Dv, RF |   | Kubel, DH |
| Smoak, 1B |   | Young, D, LF |
| Treanor, C |   | Hardy, SS |
| Borbon, CF |   | Punto, 3B |
|   Holland, P |   |   Baker, S, P |
It certainly feels good to get a sweep in!  The boys did an all around good job if the exceptional still eluded most.  However, Kubel continued to follow the big boys with RISP hitting and Nicky did a brilliant job tonight as well – fun to see him on base that often and STEALING besides.  Even Mauer couldn't do THAT right tonight.  So for those reasons, we voted to let them share the BOD honors.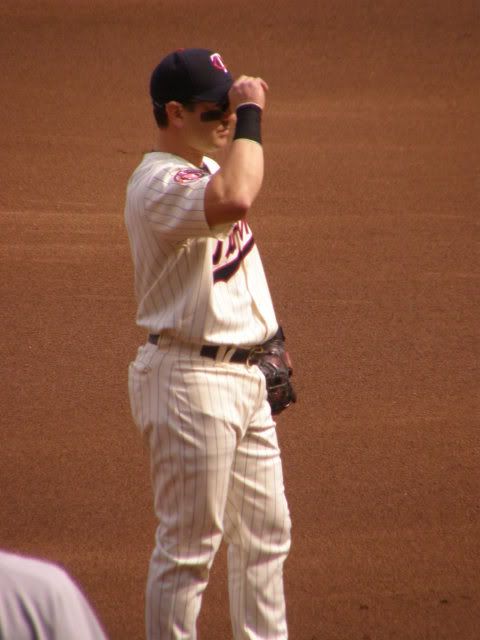 And sadly, for those that saw the final pitch and out of the game, you saw the horrific flying formation that Denard Span and Orlando Hudson attempted – which neither landed successfully.  Hudson seemed to take the worst of the landing and Span actually managed to hang onto the ball in the sacrifice of the body.  For their determination and tenacity and for walking off the field under their own power, we award them the Golden Band-aid!