With close to 70 different Twins-related blogs floating about in the cyber-cloud and almost all of them posting an analysis of the upcoming Twins/Yankees ALDS, it's not easy to set your blog apart from the others. But here at Knuckleballs, we're fortunate to have a legitimate fan of the Yankees (who conveniently goes by the nick "Yankee Fan") as a regular reader. We asked Yankee Fan if he would be willing to go head-to-head with Jim Crikket in a little pre-ALDS analysis. To our surprise, he agreed!
Here, in Part 1 of Yankee Fan vs Jim Crikket, they discuss the comparative strengths and weaknesses of the Yankees and Twins pitching. Later, they'll give their takes on their respective teams' gloves and hitters and provide their personal predictions concerning the utlimate outcome of this ALDS series.
JimCrikket: I would imagine that we'll start off with something we can quickly come to an agreement on… that CC Sabathia is clearly the number 1 rotation arm in this series. Since he's likely to pitch two of the four games (if the series goes that far), he's arguably both the first AND second best pitcher in the series. But forgive me if I haven't been impressed with what I've seen of Andy Pettitte since his return or Phil Hughes since… I dunno… June? It's hard to predict which versions of the Jekyll/Hyde Twins starters will show up on any given day, but I think their depth is better than the Yankees. When he's "on", Liriano is as good as anyone in the league and Pavano has been very reliable, but I think Brian Duensing and Nick Blackburn could play key roles in determining who wins this series. Overall, I give a slight advantage to the Yankees  just because Captain Cheeseburger can be THAT good.
 Yankee Fan: CC is absolutely a great pitcher but calling him the top two pitchers in the series borders hyperbole (unless that's a veiled reference to his weight, in which case I concede).  There's an argument to be made that Liriano is the better pitcher (2.61 ERA, 10 K/9 vs. CC's 3.21 ERA, 7.46 K/9 against playoff teams) and that the Yankee bats are responsible for the difference between Sabathia's 21-7 record and Liriano's 14-10.  At the very best, I would call it a wash on Game 1.  There will be no surprises as either pitcher can "bring it."
As for Games 2 and 3, can someone please show me where the average Yankee fan (and Daily News') confidence comes from?  Pettitte has been worse than Burnett since coming off the DL (seriously, 6.76 ERA!) and Hughes' 1.63 WHIP over his last 3 starts doesn't strike fear in my son's little league team right now.  Then again, Pavano and Duensing haven't been lighting it up either, so I think that Games 2-5 (if necessary) will be determined by the hitters instead of the pitchers.  Without boring you and your readers with the statistics, it would appear that beyond CC and Liriano the series will be decided by non-strikeout pitchers — that means a lot of batted balls in play.  I know that traditionally playoff games are dictated by pitching and defense, but here the hitters will determine the outcome (and the series).  Then again, don't discount the Pavano factor — if I've learned one thing over the past 5 years it's that if Carl can screw the Yanks, he will.
Jim Crikket: Wow, I'm shocked… it sounds like you're going to make all my points for me! You want to do my job and tell me how great the Twins' bullpen is too?
Yankee Fan: Well you started off praising CC so I guess I felt the need to reciprocate — in retrospect I may have overcompensated.  Now you have to say something nice about Derek Jeter.  As for bullpen comparison, it is my humble opinion that the Twins' bullpen is the best in baseball.  Don't get me wrong, I like the Yankee bullpen very much — I still think Joba can get key outs, Wood has been excellent, and despite the chatter, Mariano is still Mariano.  My biggest issue with the Yankee bullpen is that they may need 4-5 innings of relief pitching for every non-CC outing to even get to Mo.  Over a 5 game series that bullpen is bound to turn out like the Yankees' signing of Pavano — overspent and underwhelmed.  The good news?  I think that Minny might need 4-5 innings of relief pitching as well (especially with Pavano and Duensing pitching to contact).  The bad news is I think they can handle it.  Agree?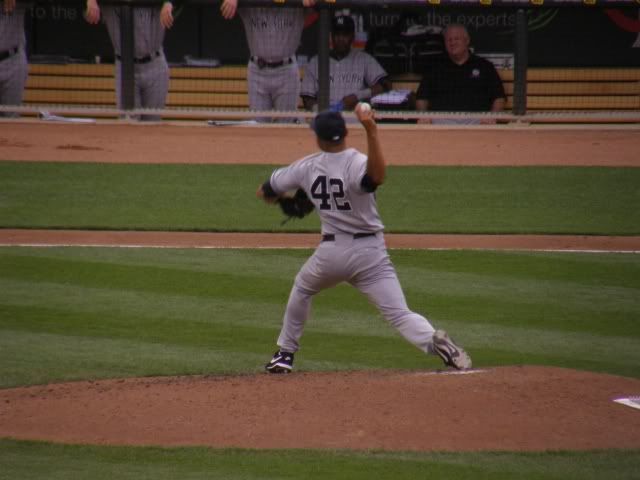 Jim Crikket: I certainly do (but I'm going to have to give some thought about saying something nice about Jeter).
I realize it borders on heresy to suggest that Mariano Rivera is remotely human, but it sure looks like age may finally be catching up to him. I also haven't been impressed with the rest of the Yankees bullpen, though I readily admit that I'm surprised at just how effective Kerry Wood has been. Matt Capps has been reliable and just for good measure, the Twins have two more 20-save arms in their bullpen in the persons of Brian Fuentes and Jon Rauch (assuming he's healthy). Remarkably, none of those three is even the Twins best reliever. That would have to be Jesse Crain. Nobody wants to have to go in to the ninth inning down and try to beat Rivera, but I think the Twins overall depth gives them the advantage at this position. It sounds like we agree on that anyway.
Next: Who's going to flash the best leather?