After watching Ben Revere in Spring Training, I wrote somewhere that the Twins should keep him as their extra outfielder to start the season, rather than Jason Repko. Most others (including the Twins decision-makers) felt that Revere needed to play every day to improve the way the Twins felt he could. Tough to argue that point, but the things he brings to the table that other outfielders do not were just as apparent in March as they are now, so there's reason to suspect that avoiding starting his service time too soon was a factor, as well.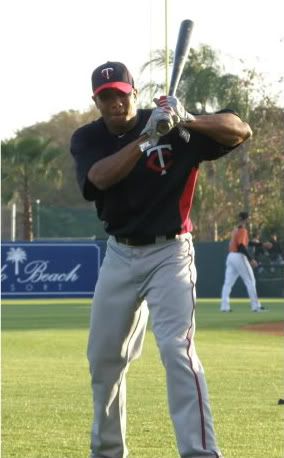 Since being recalled from Rochester June 2, Revere has gotten a lot of attention… almost all of it good. A lot of it has been for his offensive contributions and that's justifiable… to a degree. He certainly can be a disruptive force on the bases, when he gets on base. But while he's filled in adequately for Denard Span at the top of the order over the past week, Revere actually doesn't get on base all that much. He seldom works a walk and he's not exactly driving the ball.
But when he does get on base, he's a definite threat to steal. In my book, it really doesn't matter much whether a player doubles or whether he singles and steals 2B… especially when he's likely to safely take an extra base on subsequent hits by guys behind him in the order.
He's also earned recognition with his glove… and his legs… in the outfield. A lot of Twins fans thought they had a pretty fair defensive CF in Span, but Revere has opened some eyes to what real speed can do out there.
Over at Twins Fan From Afar, our friend Andrew has gone on record saying he wants Revere sticking around. He's not alone. There have been others who have suggested that Jason Repko's time as a Twin could be coming to a close as many of the Twins' walking wounded begin to return to the roster.
I agree with a lot of what's being written. I want Revere to be kept in Minnesota, too, but I won't be satisfied with keeping him around merely as the bench outfielder. I want to see Gardy find an every day position for Revere and keep him in Minnesota, regardless of who comes off the Disabled List. It may not be the same position every day, but he should be in the line up at least 5 times a week.
During the offseason, I understood about Gardy wanting more speed… I was just confused by the fact that they would conclude the Twins needed more offensive speed to take advantage of the way Target Field's outfield rewarded gap hitters, while at the same time not recognizing that the same factors meant they should be improving their defensive speed in the outfield, too.
We are all, including (at least I hope) the Twins management, now seeing how important it is to have some wheels in that big patch of grass between the infield dirt and the JumboTron.
Everyone is pointing out just how much the Twins' pitching staff has improved… how their collective ERA has dropped… in the past couple of weeks. Gosh, I wonder if that's because a dozen different guys who had been struggling to get anyone out suddenly all got good at the same time or do we think that… just maybe… it has something to do with balls that find their way over an infielder's head are occasionally landing in a glove instead of all of them dropping on the green, green grass? I'ts funny how ERAs drop (and numbers in the win column go up) when the OF gap is where opponents' batted balls go to die instead of splitting outfielders for doubles.
(By the way, despite a lot of people being upset over how mean Gardy was to poor Trevor Plouffe, I think Twins pitchers would agree that another reason their stat lines are looking better is that the middle infield is no longer giving opposing teams four outs every other inning.)
There have been a few things written lately about how the Twins no longer play baseball "the Twins Way." Well, the "Twins Way" isn't (or at least shouldn't be) just about slapping the ball and running around the bases faster. It starts with playing solid defense and if the Twins are really interested in getting back to their roots, then keeping Ben Revere in the outfield somewhere (preferably alongside Denard Span when he's healthy again) is an absolute must.
BUT, if that's not the plan… if we're going to go back to seeing some combination of Delmon Young, Jason Kubel and Michael Cuddyer manning 2/3 of the outfield because the Twins want all the offensive firepower they can get in the line up… if the only role Revere will play once everyone is healthy is that of a 4th (or 5th) outfielder and occasional pinch runner… AND if it's true that service time had nothing to do with why Revere wasn't given the extra outfielder spot over Repko out of Spring Training, then send him back to Rochester where he could continue to play every day, because nothing has really changed since the end of March.
In March, the Twins knew his arm wasn't strong and that he'd need to learn to compensate for that. In March, the Twins knew he had little or no power. If it's true that they felt the only way he would improve on his weaknesses was to play every day… to improve (or at least compensate for) his weak arm and to improve his swing to drive more balls in to the gap… then they should still feel that way.
If the reason for starting the season in Rochester really was all about giving him daily playing time so he continues to develop, then the same thing would be true once the regular outfielders are healthy. But if the real reason had to do with delaying service time, that ship has probably sailed. I guess we'll find out what the REAL reason was in the next couple of weeks.
But the more I see of Revere, the more convinced I am that I was right in the first place. He should have been with the Twins from the outset of the season. He was good enough to play at this level and the Twins needed his speed in the outfield. I wanted to see that at the start of the season and I sure as heck don't want to stop seeing it now.
I suspect the pitching staff feels much the same way.
– JC