Changes are coming.
Heading in to this series, the Twins trailed the White Sox by 3.5 games. As the Twins head in to the AllStar Break after today's game, they will either trail by Chicago by that same 3.5 games or will have closed to within 1.5 games of third place. No, your goal should never be to reach 3rd place in the standings, but when you've spent most of the season in 5th place, I believe you have to focus on catching… and passing… the next team in front of you. You can't get to 1st place until you've moved in to 4th… and 3rd… and 2nd.
Media reports indicate manager Ron Gardenhire has promised roster changes will be made following the game. One of them is obvious… Delmon Young is ready to return and that almost certainly means Rene Tosoni will be returning to Rochester. But what else?
It just seems to me that Trevor Plouffe has done all he can do in Rochester. I'm not sure if he'll ever be a good defensive player and I'm not convinced he's really as good with the bat as he's been in Rochester this year, but it's time to bring him back up. I don't think he needs to start on this team, but he's got to be a more valuable bat off the bench than the Twins' third catcher, whoever that might be. I suspect it will be Rene Rivera who gets a plane ticket back to AAA.
I won't be surprised if Chuck James is recalled from Rochester, as well. The question is, which member of the current bullpen will be dropped? Another thing to consider is that Kevin Slowey's rehabilitation assignment is drawing to a close and a decision will have to be made with regard to his future, as well.
But first things first… let's beat down the Bitch Sox today and head in to the break on a positive swing!
| | | |
| --- | --- | --- |
| TWINS | @ | WHITE SOX |
| Revere, CF | | Pierre, LF |
| Casilla, A, 2B | | Ramirez, Al, SS |
| Mauer, DH | | Konerko, 1B |
| Cuddyer, 1B | | Dunn, A, DH |
| Valencia, 3B | | Quentin, RF |
| Tosoni, LF | | Rios, CF |
| Nishioka, SS | | Pierzynski, C |
| Butera, C | | Beckham, 2B |
| Repko, LF | | Teahen, 3B |
|   _Swarzak, P | |   _Peavy, P |
That's 3 of 4 from the BitchSox heading in to the break and while it wasn't the prettiest of wins, any win over AJ and his buddies is a good win!
Good balance on the offensive side today with 13 hits, but only two were for extra bases (2B by Repko, 3B by Casilla). Anthony Swarzak picked up right where he left off the last time he was pressed in to a starting role and threw six very solid innings. Things got a bit hairy after he left the game, but Glen Perkins cleaned up the mess he inherited and then pitched another good inning for 1 2/3 of terrific relief. Matt Capps looked just fine getting the save.
GameChat votes broke right down the middle, so our Boyfriend of the Day honors are shared today by Swarzak and Perkins. Get some rest, boys… the fun really starts after the AllStar Break!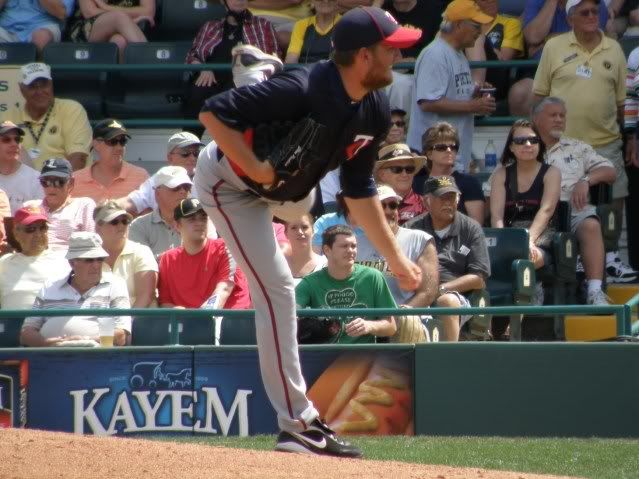 .