It's hard not to look forward to the next eight games in seven days against the 'Toons and Tigers, but the Twins need to focus on not letting today's game against the Royals slip away. It's important to win this series, too.
It sounds like it's going to be another hot one at Target Field, so let's hope everyone stays hydrated and comes out of this game healthy… and with another win!
| | | |
| --- | --- | --- |
| ROYALS | @ | TWINS |
| Getz, 2B |   | Revere, CF |
| Cabrera, Me, CF |   | Casilla, A, 2B |
| Gordon, LF |   | Mauer, C |
| Butler, DH |   | Cuddyer, 1B |
| Hosmer, 1B |   | Thome, DH |
| Francoeur, RF |   | Young, D, LF |
| Betemit, 3B |   | Valencia, 3B |
| Treanor, C |   | Plouffe, RF |
| Escobar, A, SS |   | Nishioka, SS |
|   _Paulino, F, P |   |   _Duensing, P |
Wow.. what a game! Starting at the end because we WON and that puts us 5 games back in the division (serious progress) Nathan got his 2nd Save in his third straight appearance in a solid and decisive way. It was a thing of beauty and for that he gets a tall frosty adult beverage of his choice to cut the heat.
Of course, the REAL story of the game was Jim Thome hitting the longest HR in Target Field so far – estimated at 490 ft – which gave him HR #596. It's good to see him start to get to his rhythmn back. It's even better when he drives in three runs in the process and gives us the win!  So for that, Jim Thome is today's BOD!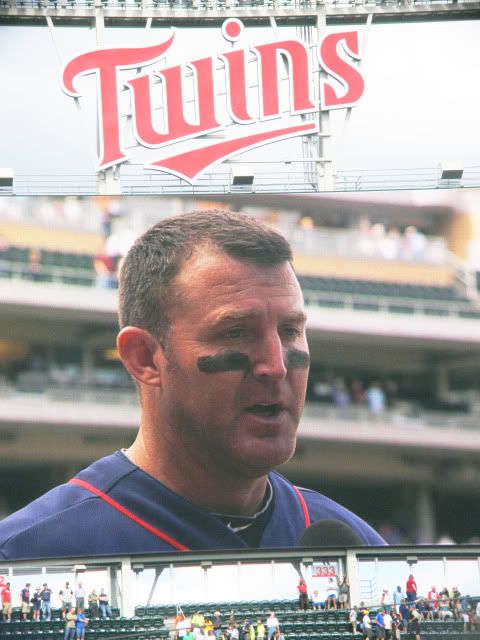 As post-game news goes, Twins made several moves before tomorrow's double-header & not all of them for good reasons.
Scott Baker has been put on the DL with a strained flexor muscle in his right arm – this is retroactive to July 7th.
Matt Tolbert was optioned back to Rochester.
Scott Diamond's contract was picked up and he'll come up to start tomorrow night's game.
Chuck James is also being called back up to add a fresh arm to the bullpen.
Don't forget that there is a makeup game at 12:10 tomorrow before the regularly scheduled 7:10 game and that will likely still have extremely high temperatures & humidity which will make the double-header a real challenge for both teams. Hopefully, they won't have have to deal with any serious storms in the process.