We're working our way through the list of potential free agents, with an eye toward helping our friend and Twins GM Bill Smith fill out his shopping list for the upcoming offseason.
Since the Twins' first round draft choice is protected, thanks to the lowly position they are all but assured to claim in the final standings. That, combined with the Target Field revenue stream and the not-insignificant amount of money scheduled to come off their payroll books after 2011, leave the organization with a lot of opportunities to improve the team on the field.
In Part 1, we discussed the catching position and in Part 2, we looked at 1B, OF and DH. In Part 3, we'll try to figure out what to do about the mess that the front office created in the infield last offseason. Elias combines 2B, SS and 3B together in their rankings, so we'll talk about those three positions together, too.
You're going to spend $3 million on Tsuyoshi Nishioka. Those are probably sunk costs (though in my little fantasy world, I've been trying to fool myself in to thinking there might be some way to send Nishi back to Japan and get out from under the rest of his contract… I just have no idea how that might happen). But even if you're paying him, that doesn't mean he has to be on your roster. If we can find a replacement who is better at baseball (and that seems like it should be easy enough to do), you ship Nishioka to New Britain or Rochester.
We're estimating Alexi Casilla would get about $1.5 million via arbitration, but since he's been sitting out the last several weeks, that might be a bit high. Danny Valencia is going to be another minimum wage earner in 2012.
But if we've got the money, who's out there to spend it on?
Of course, Jose Reyes is the guy getting all the ink and as a 28 year old with an OPS in the high .800s, he's earned the attention. He's going to find someone willing to give him a nice raise over his current $11 million salary. It won't be the Twins.
I might check in to see what kind of offers the Phillies' Jimmy Rollins is getting. He's pulling down $8.5 million this season and he's still not putting up the MVP numbers he was 4-5 years ago, but he's certainly looking better this season than he has the past two… and a helluva lot better than what the Twins have put out there at SS. I might also keep track of whether the Reds pick up Brandon Phillips' $12 million option. That's a lot of money to pay a middle infielder, though he is a couple of years younger than Rollins. If I have room in my budget and can sign one of those guys, I'd do it.
The only other Type A 2B available is Kelly Johnson. Johnson picked a bad time to have a bad season (though he seems to be turning things around a bit since coming over to Toronto from the D'Backs). He put up numbers in Arizona well below his career line and even further below his 2010 offensive stats. He's making less than $6 million this season, so he'll likely be relatively affordable, especially saddled with that Type A collar around his neck. At age 29, I might be tempted to find out if he'll bounce back to something close to his career averages, say .260/.350/.450 with 10 HR and 12 SB.
Johnson, Rollins and Phillips would all be capable of giving the Twins some of the speed that they claimed was important when they let JJ Hardy and Orlando Hudson go last offseason.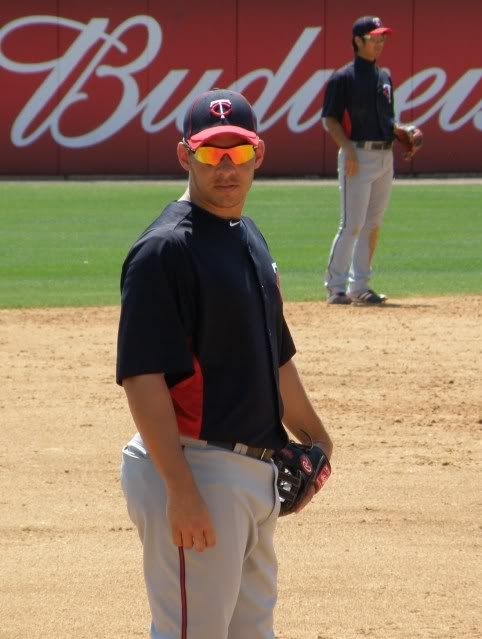 There are no Type A free agents currently at the 3B position but, despite being the target of a fair amount of criticism from his manager, it's tough to imagine Danny Valencia not being the Twins' 3B next season. Nevertheless, let's glance at the Type B options.
The Cubs' Aramis Ramirez and the Dodgers' Casey Blake both have club options that their teams will have to decide about picking up. Ramirez will be pricey (the option is for $16 million) and Blake would have been a good option for the Twins three years ago, but I can't see him being an upgrade over Valencia at this point in his career.
There is one 3B that might be worth at least taking a look at, particularly if the Twins decide to use Valencia as trade bait (perhaps to help upgrade their pitching staff?) and that's Wilson Betemit of the Tigers. He's only making $1 million this season, is just 29 years old and carried a .286/.345/.413 slash line in to the end of August. He can also play 1B and 2B. I'm not so sure he wouldn't cause just as much anxiety for Gardy with his defense as Valencia does, however.
Next up, in Part 4, we talk pitching. I hope we still have some money left.
– JC