Congratulations to Michael Cuddyer on being named to the AL All-Star Team for the first time. Cuddyer has toiled in the shadows of guys like Joe Mauer, Justin Morneau, Joe Nathan, Johan Santana and others over the years, so he hasn't gotten the broad recognition that others have, but more than once he's had to step in to a leadership role with the Twins and for all the shit some people seem to enjoy dumping on him at times, he's never demonstrated anything but class and a solid work ethic. Congratulations Cuddy!
One of the toughest things to do in sports is put a tough defeat, like last night's loss to the Brewers, behind you and not let it have an effect on another game less than 24 hours later. That's exactly what the Twins have to do today, however.
Let's hope they find the intestinal fortitude to do the job.
[I'm planning on enjoying a Cedar Rapids Kernels vs Burlington Bees ballgame this afternoon, so I won't be around for much, if any, of the chat. I'm not sure if Babs will be either, but for those who do join in, enjoy the game! – JC]
BREWERS

@

TWINS

Weeks, 2B
Revere, CF
Morgan, CF
Casilla, A, 2B
Hart, C, RF
Mauer, C
Fielder, 1B
Cuddyer, RF
Gamel, 3B
Thome, DH
Betancourt, Y, SS
Valencia, 3B
Kotsay, LF
Tosoni, LF
Lucroy, C
Hughes, L, 1B
Counsell, 2B
Nishioka, SS

_

Greinke, P

_

Blackburn, P
This game is exhibit A for why you just don't want to overreact to one bad game. The season is 162 games long and you're going to give up some late leads and lose some games you should have won… you're also going to have some games… like today… where you're offense has to just keep hitting baseballs until you come back on a team and steal a win.
Since I was at the local minor league game today, the best I could do is follow along on my phone, but from what I could tell, there was no shortage of heroes today. Big Jim Thome cracked home run number 595 (and his second of this series). Rene Tosoni got the Twins back in to contention with a 3-run HR of his own. Danny Valencia had a couple of hits including a double and an RBI. Joe Nathan threw a perfect 8th inning and Glen Perkins entered in the 9th with two men on and Prince Fielder coming to the plate, but struck out the two batters he faced to nail down the win. That's a group worthy of a dessert buffet if I've ever seen one.
But on a unanimous vote of those in the GameChat, the Boyfriend of the Day award goes to Michael Cuddyer, who came up with a key RBI single not once, but twice, on the day he was announced as the Twins' representative in the 2011 All-Star Game!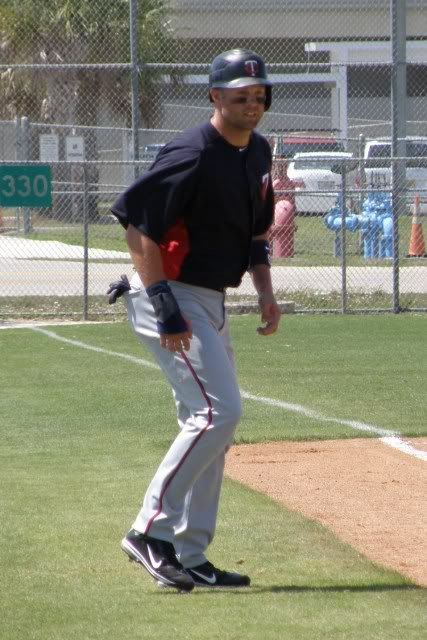 .