So Jason Kubel came back Friday and Scott Baker returns today. It's about time to end this "can't beat the Tigers" BS, isn't it, guys?
Everyone else can beat the kitties so there's no reason to think the Twins shouldn't be able to.
Brad Penny's been pitching well lately for the Tigers even if he hasn't been getting the Wins to show for it. It's time for Twins hitters to step up. If  they embarrass themselves today like they did last night, it will be in front of a near-national audience on FOX.
TIGERS

@

TWINS

Dirks, CF
Revere, CF
Boesch, LF
Casilla, A, 2B
Ordonez, RF
Mauer, C
Cabrera, Mi, 1B
Cuddyer, 1B
Martinez, V, DH
Kubel, DH
Peralta, Jh, SS
Valencia, 3B
Guillen, 2B
Young, D, LF
Avila, C
Plouffe, RF
Kelly, 3B
Nishioka, SS
  

_

Penny, P
  

_

Baker, S, P
That wasn't exactly the offensive breakout game I've been hoping for, but we're going to just enjoy the win, right?
Getting ahead on the scoreboard early was a nice change and Scott Baker looked pretty damn good to me in his first game back from the DL. He only went five innings but they were a really good five shutout innings.
Danny Valencia launched a solo shot and Delmon Young had a nice two-run double. Joe Nathan slammed the door shut and Phil Dumatrait threw a scoreless inning of relief, as well.
Tsuyoshi Nishioka was the only Twins hitter with more than one hit, collecting two singles (though neither figured directly in the scoring). But his biggest contribution was in the field. He ran down three flares in shallow left field, a couple of them very nice plays in critical situations. In addition, Glen Perkins not only pitched a scoreless inning of relief, but struck out Ordonez and Cabrera back-to-back to cap his work. For those performances, Nishi and Perk are our co-BODs today!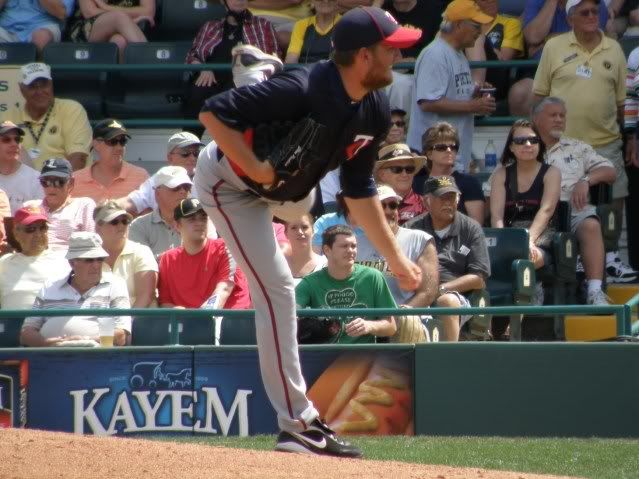 .