We're working our way through the list of potential free agents, with an eye toward helping our friend and Twins GM Bill Smith fill out his shopping list for the upcoming offseason.
Since the Twins' first round draft choice is protected, thanks to the lowly position they are all but assured to claim in the final standings. That, combined with the Target Field revenue stream and the not-insignificant amount of money scheduled to come off their payroll books after 2011, leave the organization with a lot of opportunities to improve the team on the field.
In Part 1, we eased in to this process by looking at a couple of options for improving the quality of the back up catching situation. In Part 2, let's look at the group of free agents available to play 1B, the outfield, or just DH. Elias lumps this group together and, interestingly, they rank the players at these positions based solely on offensive statistics without regard to defensive contributions whatsoever.
The Twins clearly need an outfielder or two from the free agent ranks. Of course, one option would be to re-sign one or more of their own free agents outfielders, Michael Cuddyer, Jason Kubel and/or Jason Repko. Right now, Cuddyer and Kubel are both Type B free agents, though they are both close enough to the dividing line to have some chance of reaching Type A level by the season's end.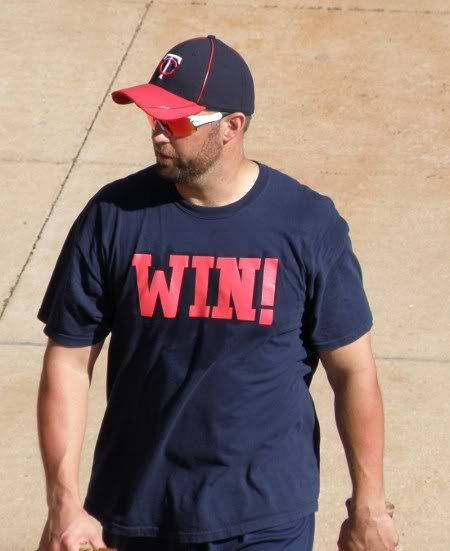 There's been a lot of speculation about what these two might command on the open market. Some reports have suggested that Cuddyer might be the most sought after OF and the Rockies have reportedly already decided he'll be their top target.
Earlier in the summer, Cuddyer appeared to be a likely Type A free agent. If that were to be the case, it might make the Twins more open to letting him go, since they would get two compensation draft picks in return. On the other hand, being a Type A might shorten the list of teams open to signing Cuddyer, since at least those without protected first round draft choices might not want to forfeit their top picks to sign him.
By the way, this brings up a point I'm a bit confused by, so if you can help me out, I'd appreciate it. I know I've read in a couple of places that Cuddyer is now listed as a 1B, rather than an OF, and that this is perhaps the reason he is now a Type B, rather than a Type A. The conjecture is that he may be more likely to regain Type A status if he predominantly plays the OF the final month of the season.
This makes no sense to me. Elias lumps 1B's, OF's, and DH's together in their rankings so it certainly appears to me that it makes no difference whatsoever whether a player is considered a 1B or an OF. If I'm missing something, someone straighten me out in the comments section, will ya?
UPDATE: Timing is everything. About half an hour after posting this, MLBTR posted updated "reverse-engineered" player rankings that now have Cuddyer listed as a Type A outfielder. In theory, this could (a) narrow the list of teams interested in bidding on him due to the prospect of losing a draft choice, and (b) make it more likely Cuddyer would re-sign with the Twins, but (c) give the Twins less incentive to re-sign Cuddyer because they would get two compensatory picks if he signs elsewhere. In other words, it's still a crapshoot.
In any event, I thought the Twins might trade Kubel a year ago in an effort to add speed to their outfield so I don't see them as likely to get in a bidding war with other teams for Kubel's services. I wouldn't mind him being retained if they can get him signed for a minimal raise over his current $5.25 million contract, without going more than 2-3 years. I just suspect that someone is going to be willing to just about double his current contract and I don't think the Twins should do that.
Likewise, with Cuddyer, I suspect someone will give him north of $30 million guaranteed over the next three seasons and as much as I'd like to see him stick around, the Twins' best prospects coming up are outfielders and they need guys who can cover more ground in the field than Cuddyer and Kubel can at this point.
So what if we go shopping on the free agent market?
Well, there's a reason people are speculating that Cuddyer and Kubel will be in great demand… there simply aren't many other outfielders out there. Don't expect the Twins to be bidding for Carlos Beltran. He's bringing in $18.5 million this season and while, at age 34, he may not be likely to command another similar deal, it's tough to find a way to shoehorn anything close to that in to the Twins' budget.
The only other Type A free agent likely to be on the market is Oakland's Josh Willingham. He's put up about an .800 OPS this season for a mere $6 million, but then again, if the goal is to tighten up the outfield defense, he's probably not going to help you out in that area. He's about the same age as Cuddyer and likewise bats righthanded and will hit around .250 with some power. He doesn't play the number of positions that Cuddyer does, of course, but ideally you wouldn't want to continue to rely on Cuddyer to play all over the infield. So, if he's essentially a Cuddyer clone, why let Cuddyer go and sign Willingham?
Actually, there is one reason. If things play out the way they are right now with Willingham a Type A free agent and Cuddyer a Type B, the demand for Willingham is likely to be considerably less than for Cuddyer because teams that finish in the top half of MLB, would lose their first round draft pick by signing Willingham. The Twins, by virtue of their crappy season, would forfeit only their second round pick. Still, even sacrificing their second round pick might be overpaying for Willingham, especially when finding a way to keep Cuddyer wouldn't come with the same penalty.
In the end, I expect the Twins to find a way to keep Cuddyer for something approximating his current annual contract. Let's call it $10 million. I just hope they don't get locked in to too many seasons. I also think they still like Jason Repko and I could see them retaining him for something around $1 million.
For now, let's assume Kubel gets an offer he can't refuse elsewhere (does anyone else think he's got a high likelihood of ending up with the White Sox? He has killed the Sox in his career, much like Jesse Crain did, and I could see Kenny Williams overpaying him to be their lefthanded DH and occasional outfielder). If you don't shell out money for Cuddyer, or Willingham, are you willing to settle for leftover free agents like Ryan Ludwick, Cody Ross, David DeJesus, Juan Pierre or Johnny Damon? I'd have to get a helluva deal on one of those guys because, say what you will about Cuddyer, but any of the low Type B to non-ranked outfielders on the market would be significant steps down.
Just as an aside, keep an eye on how Twins prospect Chris Hermann performs in the Arizona Fall League. He's a catcher/outfielder that didn't look too bad in Spring Training and having a guy around who can fill in at both of those positions and maybe even hit a bit would sure be interesting. He's almost certainly a year or more away from being ready for Prime Time, but you never know.
What about 1B?
I wish I could say I was confident that the Twins were set at 1B with Justin Morneau through 2013, the last year of his contract. I just can't. The concussion situation worries me. If he's going to be at high risk for even minor concussions every time he dives for a ground ball, he probably has no business playing Major League baseball. I could certainly see him becoming virtually a full time DH.
So if you can't count on Morneau to man 1B for 140 games next season, what do you do? One option, of course, is to pencil Mauer in for more games there. If you re-sign Cuddyer, he's another option.
If we want to spend Bill Smith's money, though, are there free agents out there to buy? Sure… if you want to get in the bidding for Albert Pujols or Prince Fielder, I suppose. But I think we can safely say that Joe Mauer will remain the only $23 million ballplayer calling Target Field home for a while.
The list of Type B options is pretty depressing, so I won't even bother with those. There is, however, one more Type A free agent I'll bring up. I know reports are that the Cardinals intend to try to keep Lance Berkman, but if they break the bank for Pujols (not to mention a couple of their pitchers that are hitting the market), will they really be able to afford to keep Berkman? He's making $8 million this season and although he's putting up terrific numbers (over a .900 OPS), he's also 35 years old and is not likely to get a lot of long-term contract offers especially, once again, from teams that would have to sacrifice that a high draft pick.
If I could get Berkman for something like $9-10 million on a one-year deal plus a club option year, I'd seriously consider doing exactly that. He's a switch-hitter who can play 1B and the OF, not to mention DH (though we know he doesn't like doing that). If I lose out on keeping Cuddyer, I'd look hard at Berkman.
That's a lot to digest, but in Part 3, we'll be looking at the rest of the infield positions and that's not going to be a cakewalk to fix either.
– JC