WOOOHOOOOO!!!  Can't believe there were people stalking the airports to see if they could see the White Sox arriving in town..  what?  someone else came in?  Who cares?!  The Twins are playing the WS in Target Field!!!!  Sorry if I'm a little focused on baseball right now – haven't gotten into the football mode, much less care about prima donna players.
ANYWAY…  given my baseball addiction, the off-day was spent doing what? with BASEBALL PLAYERS!  😀  I went over to Park Tavern yesterday afternoon to see Baseball Unplugged (and chat with) Nick Punto, Drew Butera and Danny Valencia.  I didn't take TOOOO many pics, mostly because it's a bar and it's dark but it was a fantastic night with some guys who were obviously having a good time and enjoy their fans!
Special thanks to Nick Punto for making sure that Betsy, I, and the young boy sitting near us all got to ask a question since the guy who does the hosting was on the other side of the bar…  You are a true gentleman, Nick and it was great to spend a little time with you!  AND it means I have an answer to the question that has plagued me for awhile from the horse's mouth! 
My question was "who is our backup 1B guy if something happens to Cuddyer before Morneau is back in the lineup?!" *knock on wood*  Danny spoke up and said that, if necessary, it is supposed to be his job and they have had him practicing over there just in case.  Drew said that he'd be backing up Danny just in case but that since soooo many people would have to be injured for him to be responsible, he doesn't like to think about it.  I don't blame him.
But let's focus on tonight – Nicky is eligible to start tonight but he's not out there.  That's not terribly surprising given how hot Valencia has been but at least it answers the question many fans had been asking.  We have a good lineup out there to face the Sox and I think they are coming off a great series against the A's which has lifted morale.  I'm not going to honor comments about starting bench brawls during this series because I think that kind of deliberate nastiness is below the Sox.  If it turns out that it's not, I'll be incredibly disappointed.  Win TWINS!
| | | |
| --- | --- | --- |
| Chi White Sox | @ | Minnesota |
| Pierre, LF |   | Span, CF |
| Vizquel, 3B |   | Hudson, O, 2B |
| Rios, CF |   | Mauer, C |
| Konerko, 1B |   | Cuddyer, 1B |
| Quentin, RF |   | Kubel, RF |
| Kotsay, DH |   | Young, D, LF |
| Pierzynski, C |   | Thome, DH |
| Ramirez, A, SS |   | Valencia, 3B |
| Beckham, 2B |   | Hardy, SS |
|   Danks, P |   |   Baker, S, P |
The temptation for this game is to completely ignore the majority of the game – just pretend the first 9 innings didn't happen because the 10th inning was just THAT AMAZING!!!!  THAT was exciting baseball.  *shiver*
But before we get to the 10th, there really was some decent ball we should talk about.  Baker did not have his best stuff tonight so even though he got a 4 run lead to work with early in the game, he ended up giving most of it up and leaving the game in the 5th.  But offense wasn't REALLY a problem tonight.  Every time we lost the lead, we came back out and hit some more… and so did the White Sox.  yeesh.  Our bullpen did ok but not great tonight.  Felt like we had to use everybody and we nearly did.  Perk covered well though tonight to fill in for Baker and that's what we have him up here for.  After that, it was a lot of same ol' same ol' – and then Capps blew the save.  It's going to happen but it's hard to be boost the confidence of your new team's fans when that happens a couple times in the short time after you've arrived.
However, the highlights include two EXTREMELY awesome catches from people I consider unlikely to do the webgem thing – Delmon Young and Jason Kubel.  WOW.  Seriously, they'll be played on ESPN.  I've heard that Kubel's catch is #1 on the list for today.  For that excellence, both boys are awarded a pan of warm brownies to share – the gooey, dark, awesome kind.
And that was just the defense – the OFFENSE had their night going too!  Young and Hudson both had homeruns, Kubel had a great triple and Valencia had an unfortunate ground rule double – unfortunate because it would have scored Delmon if it hadn't left the field.  They all were swinging the lumber pretty well and they all get a great big ice cream sundae for it.  Thanks boys.
And it was hardly an issue but you know there had to be some sort of drama after the comments that came out of the coaching staff of the WS today.  So when a pitch appeared to head hunt JJ Hardy and just BARELY missed him, blood pressures definitely went up.  As an almost immediate response, Delmon came in from 3B and decided to take an unusual approach to homeplate since he didn't have a chance at being safe if AJ didn't drop the ball – he totally went for the two-handed bar brawl shove instead of the normal home plate tackle.  It didn't make AJ drop the ball and he was still out but I think the message was clear enough.  Granted, all that is purely my opinion.
And then we have the 10th inning.  Neither Capps nor Rauch who came in to mop up his mess really had the stuff that we needed tonight – which resulted in the White Sox taking the lead in the top of the 10th.  Ouch.  But we got to the bottom of the 10th with it being a 1 run game…  Delmon did his job and got himself on base.  Then, in a perfectly scripted 'Casey at the Bat' scenario, Jim Thome walked up to the plate.  I'm sure that every White Sox fan knew what was going to happen.  Every Twins fan knew what was going to happen.  It has happened so many times before – he just wore the other uniform before.  And then homerun #581 went DEEP into the Target Field plaza.  Turns out it was the first walk-off HIT in the new park.  Took awhile to get it.  But ESPN reported that for Thome, it was yet another cool milestone:  Thome is tied for the most walk off home runs of all time, with 12. He's tied with Babe Ruth, Mickey Mantle, Frank Robinson, Jimmie Foxx, and Stan Musial.  For that, Jim Thome, you are the Boyfriend of the Day!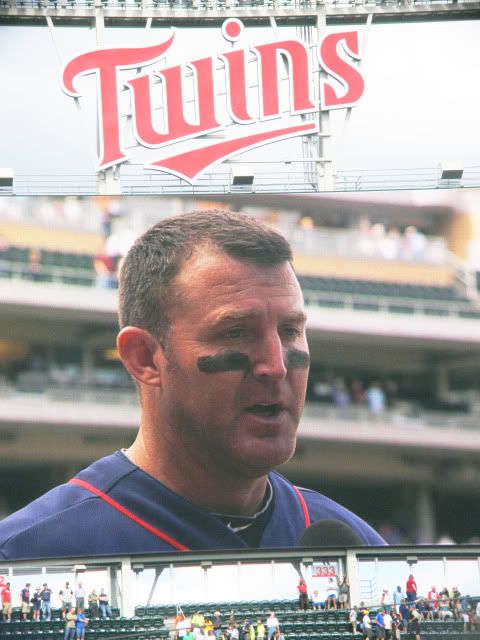 and just for the fun of it – you should click on Kbro's pic of the postgame interview PIE!!